Items You Should Be Decanting in Your Pantry (and Ones You Shouldn't)
We
independently
select these products—if you buy from one of our links, we may earn a commission. All prices were accurate at the time of publishing.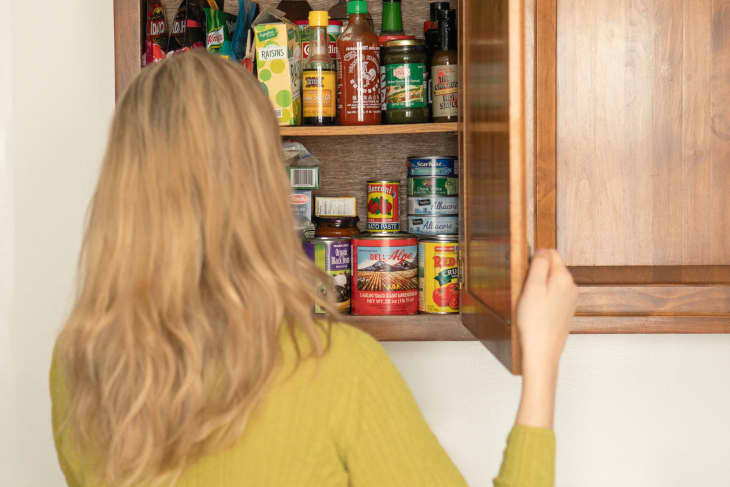 Thanks to things like the popularity of The Home Edit and social media, you've probably stumbled upon photos of perfectly organized pantries. You know, the kind with rows and rows of clear, labeled jars neatly arranged in some sort of color pattern. I've organized my share of Pinterest-esque pantries over the years as a professional organizer. And I'll be the first to admit that they're … how do I put this politely … pointless.
Sure, they look pretty, but that's really all there is to it. These spaces are for show, and function is a secondary thought. The average person, myself included, doesn't need dozens of storage jars to decant their pantry items.
Decanting, which refers to taking something out of its original packaging and placing it into another container, can be a useful tool in certain situations. As a professional organizer, here's what I think is worth decanting in your pantry and what you can feel free to skip.
The theme you'll notice with this list is that these items are used in small amounts rather than the entire package at once. So, by decanting them into airtight containers, they'll stay fresher longer and result in less food waste. Now, if you're cooking for a large family and will use the whole item in one use, then you should skip decanting. But if you're like me and scoop a cup or two at a time, then it's highly beneficial to decant the following items:
Pasta, rice, and legumes
Breadcrumbs
Flour, sugar, and other baking goods
Oats and granola
Pancake or waffle mix
Nuts and popcorn kernels
Candy and chocolate chips
Ground coffee
Spices 
A note on spices: If you buy them in bulk, then I would recommend decanting each into small jars and storing them where it's convenient while keeping the backstock elsewhere, such as on a high shelf in the pantry (just remember that they're there!). You can also choose to decant regular-sized spices into matching jars — especially if you buy different brands. I've found that they're much easier to organize when they're all the same size.
Items You Can Skip Decanting
I'm not saying you can't decant the following items, but if you're on a budget when shopping for organizers, I would start with the above list and then add these later if it makes sense.
Chips, pretzels, popcorn, etc.
Cookies
Crackers
Bread
Anything individually wrapped in plastic
Protein powder when bought in bulk bags or multiples
When it comes to individually wrapped items, such as granola bars, I do advise decanting them into an open bin. It can save you a lot of space in the pantry and looks much neater than a bunch of ripped boxes. It also makes checking inventory before heading out to the store a more painless process.
Items That Can Swing Either Way
I'm on the fence about these and don't decant them at the moment. But I can see myself doing so in the near future.
Cereal. If you're a big cereal family and have multiple boxes open at once or buy it in bulk, then I think this is smart to decant. You can also opt for a clear container with a dispenser to make mornings even easier.
Oils and vinegars. Not only would they look prettier in matching containers, but they'd also be easier to pour. I highly suggest considering decanting these if you buy oversized bottles from Costco.
How to Tell the Expiration Date After Decanting
You might have wondered, once you've decanted and thrown out the original packaging, how will you know when the items have expired? Luckily there are a few easy ways you can indicate not only the expiration date, but also any special cooking instructions.
Use a basic label maker to print a small label with the expiration date and instructions and stick it to the back or bottom of the container.
Write the date and instructions on a dissolvable food label and stick it to the back or bottom of the container.
Cut the date and instructions from the packaging itself before you toss it and tape it to the back or bottom of the container.