5 Mistakes to Avoid If You're Throwing an IRL Party or Hangout This Summer — and What to Do Instead
We independently select these products—if you buy from one of our links, we may earn a commission. All prices were accurate at the time of publishing.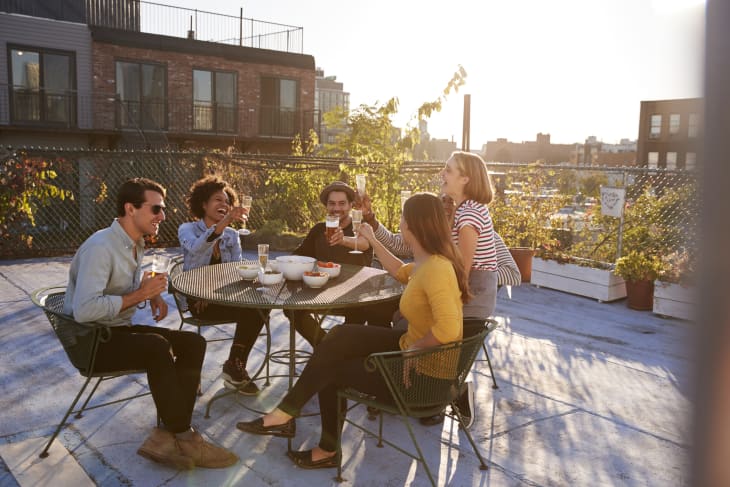 The Centers for Disease Control and Prevention (CDC) recently announced that fully vaccinated people can resume daily indoor and outdoor activities without wearing a mask or physically distancing, except where required by local laws or business guidelines. However, when it comes to gathering with friends, it's important to remember that everyone has different comfort levels with regard to mask-wearing, and there are people who still might want to continue wearing their masks, out of concern for themselves or consideration for others. 
Dr. Yuan points out that the COVID-19 vaccines are not 100 percent effective, and there have been a small number of breakthrough cases where vaccinated people have still contracted the virus.
Here are five things to keep in mind when planning or attending an outdoor social gathering this summer in order to make sure that everyone is safe, comfortable, and having the best time possible. 
Don't: Assume all of your guests will automatically follow guidelines.
Do: Make sure you clearly communicate your expectations to your guests.
Whether your event consists of drinks on the patio with a couple of friends or a rooftop birthday bash, it's important to make sure all guests know the expectations ahead of time. Elaine Swann, etiquette expert and founder of The Swann School of Protocol, explains that a host's job is to put guests at ease. "If you're holding a gathering and you expect it to be a maskless event, the first thing you should do is let all guests know in advance what type of environment they'll be entering," she tells Apartment Therapy. "That way, you're putting the power in their hands so that they can make a determination as to whether or not they want to attend."
Communication is key for Mary Ann Pianka and Megan Allen, who run the Los Angeles branch of What The Float (WTF), a silent dance party that travels through outdoor public spaces. Pianka and Allen have been organizing outdoor events throughout the pandemic, and they're making sure to follow CDC guidelines. "We're outside anyway. Everybody wears a mask. We take guests' temperature upon arrival. We ask them questions about how they're feeling."
With the new CDC guidelines in place, WTF is considering allowing attendees to go maskless at future outdoor events with proof of vaccination and enough room to socially distance, with the possibility of additional masks-on parties for attendees who prefer them.
Throughout the past year, Pianka and Allen have found creative ways to make the evolving health guidelines part of their event by prefacing their parties with a 15-minute activity to demonstrate the expectations for the night. "We'll have guests do stretches with us," Allen explains. "It'll be like, 'Give me some stretching, show me what six feet apart looks like. Do you have your mask?' We try to make it fun."
Don't: Avoid confrontation for the sake of being a "good" host.
Do: Be prepared to talk to guests who aren't following the rules. 
Let's say you're hosting a masks-on gathering and one of your friends shows up mask-free. What do you do? 
Swann advises not to make any statements or comments in front of others; rather, the host should take the guest into a private area to have a quiet conversation. "You could say something like, 'I'd prefer for everyone to continue wearing their mask. Is this something you think you'd be able to do while you're here?'" This way, Swann notes, you're putting the decision-making power in the guest's hands as to whether or not they want to stay or go.
Pianka notes that hosts should anticipate making tough decisions if needed. "It's important for guests to know that they are going to run into some rules," she says. "And it's all about making sure those rules are stated clearly and being prepared to lay down the law politely if necessary." 
Don't: Avoid the vaccination conversation, but don't feel entitled to knowing everyone's medical history, either.
Do: If you feel comfortable, ask your guests if they want to share their vaccination status prior to the party.
Checking your guests' vaccination status could be sticky territory, so make sure you feel comfortable asking the question first. One option, as Swann notes, is to add a vaccination status question on your invitation in order to put the power in your guest's hands. "Your invitation could say, 'We want to create a remarkable experience for you at our event. In order to plan accordingly, if you are comfortable sharing, we'd like to know whether or not you are vaccinated.' Then give the options YES, NO, and, I'D RATHER NOT SAY." But Swann adds that hosts must be prepared to handle any answer they might receive. "It would be impolite to invite a person to your event and then uninvite them."
Dr. Yuan adds that there are safety factors to consider when mixing vaccinated and unvaccinated folks at a party, and if a gathering is mixed company, it's advisable to proceed as if the entire group is unvaccinated. It's also important to remember that children under the age of 12 are not yet able to receive the COVID vaccine, so if they are at your event, the best rule of thumb is to follow the "old" rules. "This means wearing a mask, keeping your distance at least six feet apart, washing your hands frequently," he explains. "If the event involves sharing a meal, consider bringing your own food, drinks, plates, cups, and utensils or using all single use disposable items."
Don't: Wait to ask questions after you show up to the event.
Do: If you're a guest, make sure you understand the expectations ahead of time — and that you're comfortable with all of them.
It's crucial for guests to take charge of their own well-being, explains Swann. "Ask those hard questions," she advises. "Will people be wearing masks? Are you going to social distance? How many people will be attending?"
And while a host's job is to make sure their guests are comfortable, attendees also should be prepared to advocate for themselves. For her events, Allen created a body language code for guests to communicate whether or not they are okay with being touched — which is important any time, and especially essential amid COVID. "It's all about creating a safe space with a positive attitude and energy," she says.
If you ultimately decline an invitation out of discomfort, it's important to consider your relationship with the host when it comes to explaining your reason for not attending. If you're close with the host and you're comfortable being candid, it might be worth having an honest conversation. But if you don't know the person very well, Swann suggests a simple response, such as, "Thank you for the invitation, but I won't be able to attend."
"When we do finally get to the other side of COVID, we want to do our best to make sure that our relationships are intact," she says.
Don't: Ignore your feelings if you get to the party and you're uncomfortable after the fact. 
Do: Politely excuse yourself and head home.
Let's say you arrive to the function, only to find it far more crowded than you anticipated n this case, it's important to listen to yourself and do what's right for you. Swann suggests that if you arrive at a party and realize you're not okay with the environment, you should make your exit the same way you would if something simply came up.
"I would recommend that you go directly to the host or person who invited you and just tell them you have to to cut your time short," she advises, noting that it's not the time or place to address the real reason you're leaving, but if you're comfortable, you could discuss that with the host at another time. "Try saying, 'I won't be able to stay as long as I expected, but thank you for the invitation. And I'll see you soon.'"