My "Meat Provided, Bring a Side" Party Invite Rule Makes Hosting a Breeze
We
independently
select these products—if you buy from one of our links, we may earn a commission. All prices were accurate at the time of publishing.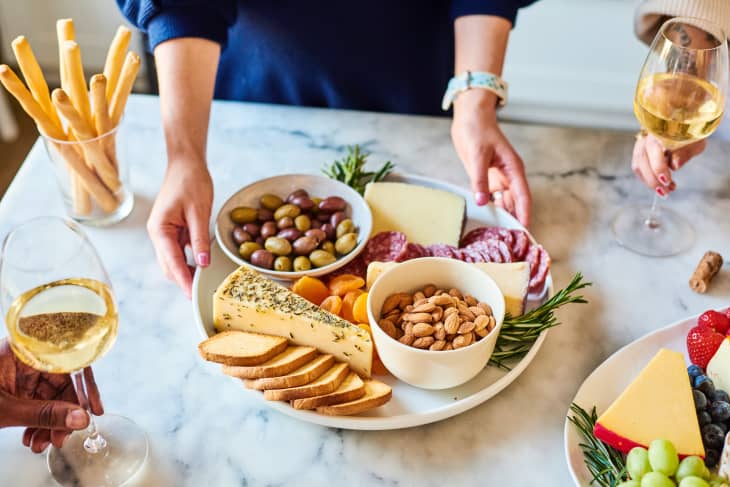 Growing up, my family's home was "the sleepover house." After high school football games, my friends and I would return reliably to our headquarters where we'd heat up frozen pizzas, flip on MTV, and pile every spare blanket and pillow into the living room. My parents generously tolerated our incessant slumber parties. They also inadvertently modeled for my brother and me their laid-back, spontaneous, and inclusive party-hosting philosophy.
Today, my husband and I host get-togethers fairly frequently, but as our place earned a spot as one of our gang's default haunts, the stress of hosting recently started to wear on me. For someone who infamously struggles with asking for help and only occasionally succeeds in establishing and maintaining healthy social boundaries, I should not have been self-inflicting all the hosting responsibilities. 
I got lost in the notion that party the best hosts are those who are prepared for anything and everything, from buying party supplies to preparing a delicious spread (with vegan and vegetarian and pescatarian and gluten-free and dairy-free options, naturally) to deep cleaning before and after the event itself. In the end, hyperfocusing on the aggregation of hosting tasks ruined the party for me. 
Ironically, our friend group is very laid-back! No one expects perfection (or even much above the bare minimum) and everyone offers to lend a hand. So here is my newfound message to hosts: There is literally no reason to reject this kindness! Attempting to be an overly gracious "cool host" is a fruitless endeavor. Now when my husband and I plan parties, one thing we're sure to include in the invitation itself is a request for a dish or a supply to bring. 
We're entering our "meat provided, bring a side" era. Delegating side dishes and assorted snacks and appetizers is one of the single easiest ways to lighten the hosting load. Investing the time and budget into a main dish is a far more reasonable task for the hosts to take on than, you know, everything. And an assortment of sides will ensure that everyone's dietary restrictions — which mysteriously seem to multiply and expand as we age — are covered without incident. 
While potlucks are a customary way to effectively divvy up the party preparation, there are countless other ways willing guests can help out. Another obvious (and seriously cost effective) method is designating the party as BYOB. For dinner parties, it might be helpful to ask guests to bring a portable camp chair or folding chair if they have one. From a guest's perspective, I'd much rather sling my camp chair over my shoulder for the commute than arrive with no place to actually sit and enjoy. In the pandemic era, it's also completely reasonable to ask guests to bring a face mask if your household requires one. 
I also keep a running list of other random supplies we'll need in the event a guest reaches out personally to offer to lend a hand. I am forever grateful for the text from the friend who's popping into a Target or convenience store on the way, because we almost always need an extra bag of ice, paper plates, or disposable cups. And on that note: generally, we try to keep our home disposable-free, even for big house parties. So if a guest offers to help with dishes to keep food and drink service going, take them up on their offer! The only reward you receive as a good host is a good time — so let yourself have one!