I Tried the Fancy Detergent Trending on TikTok to See If I Could Achieve 'Laundry Nirvana' Too
We independently select these products—if you buy from one of our links, we may earn a commission. All prices were accurate at the time of publishing.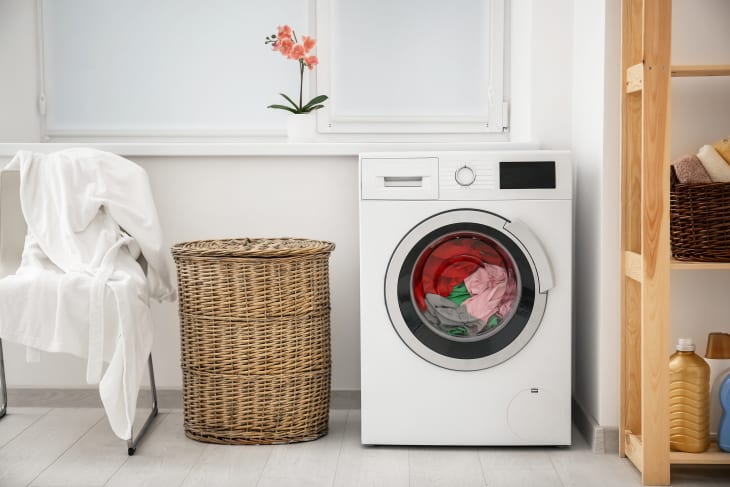 When it comes to laundry detergent, I don't deviate much from my normal, unscented Tide liquid. I love delicious-smelling scents as much as the next person, but I'm also sensitive to fragrance, so my options for laundry detergent (and soap, for that matter) are limited. That said, I'm easily convinced to try out new products, especially ones I see in the viral TikToks that appear in my feed. 
Follow Topics for more like this
Follow for more stories like this
I recently came across this video about Glamorous Wash, a perfumed laundry detergent sold by Tyler Candle Store, a Texas-based candlemaker. The creator in the TikTok, used the detergent (in the Kathina scent) to wash her sheets and bedding and absolutely loved it. "I about lost my mind. Even my husband noticed it," she says. 
Amazon reviewers shared the sentiment: One buyer says the detergent helped her achieve "laundry nirvana," and another calls the product "a little indulgence for myself." I'm amenable to both those things, so I decided to buy one for myself and see what happened. 
Before purchasing, I read through all the scent descriptions to decide which one I'd like the most. These detergents aren't cheap — a 32-ounce jug is $30 — so I wanted to boost the odds I'd actually like it and feel it was worth the investment. The most popular detergent, and the one in the TikTok, is the Kathina scent which has notes of lily of the valley, citrus, and rose. I'm not a big fan of full-on florals, so I opted for High Maintenance, a woody, musky scent, which is usually more my go-to.
When I opened the bottle for the first time, I liked how the detergent smelled right away — but it was quite strong, so it was hard to tell how it would translate to laundry. The only way to find out was to try! I added a third of a cup, per the product instructions, to a load of towels and t-shirts, then did my washing and drying as I normally would.
When I pulled my things out of the dryer, they felt soft and clean — a good sign. As expected, I could smell the detergent right away. My husband and I agree that the scent — while it smells like a perfume I'd actually buy and use — is a little too strong for us in the recommended amount. My clothes smell like I sprayed them with several spritzes of eau de parfum, even two days after I did the laundry, and the towels smell even stronger. I don't think I'd want to wash my sheets with Glamorous Wash, because I want my bed to smell clean, but not perfume-y. 
Scrolling through the Amazon reviews, I found a potential solution. One Amazon reviewer suggests using half Glamorous Wash, half Tide unscented for a more subtle scent; plus, diluting the detergent with a cheaper soap is a good way to get more out of the bottle and save a little money.
After experimenting with it, I still don't think I'm a scented laundry soap person, no matter how much the soap smells like nirvana. That said, I'm more sensitive to smells than the average laundry-doer, so if you like and regularly wear perfume, you might love your laundry smelling glamorous.