I Found the Secret to Removing Chocolate Stains in One Wash
We
independently
select these products—if you buy from one of our links, we may earn a commission. All prices were accurate at the time of publishing.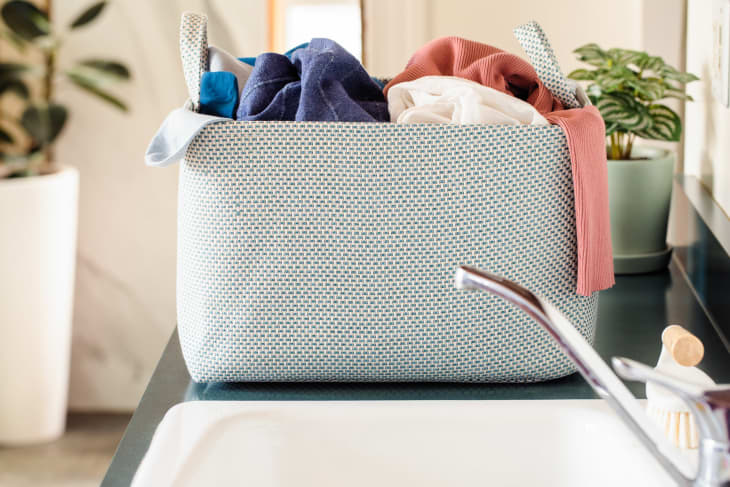 Safe space, right? Even though we try not to do it, sometimes snacking in bed just happens — and there's nothing wrong with that. Self-care comes in many different forms, and for me, one of them is eating fancy little individually wrapped chocolates and drinking wine while nestled in my cozy bed watching my favorite rom-coms on repeat. It makes me even happier at the end of a joyful day and lifts my spirits on a harder one. Except one thing would always seem to interrupt my bedtime bliss: I'd wake up to find that no matter how neat or careful I thought I was being, there were always little chocolate smudges and stains on my crisp white or ivory sheets. Not fun.
If you can relate here, I don't need to go into great detail about how challenging it can be to get chocolate (or wine) stains out of light-colored sheets. I've ruined many sets of pricey sheets and comforters simply by indulging in my little occasional nighttime ritual and not having a laundry detergent or stain remover that was up for the job. But I have some news: I've finally found one that is!
As a Cleaning and Organizing Editor, I often get the opportunity to sample new and popular laundry products to put them to the test in everyday household dilemmas. Persil ProClean Plus OXI laundry detergent instantly impressed me. Given my penchant for eating chocolate in bed, I was curious to see if this liquid laundry detergent — that promises to pre-treat tough stains and deep clean at any water temperature — would finally solve my problem. I'm happy to report that it did.
I Used Detergent to Pre-Treat My Stubborn Stains
For most stubborn stains, especially chocolate, it's best to pre-treat them before washing them in the laundry to ensure you have the best results. Some liquid detergents can also be used to pre-treat stains. Persil ProClean Plus OXI is one of them. As soon as I spotted a fresh chocolate stain, I removed the sheets and comforter from the bed and pre-treated by applying some Persil ProClean Plus Oxi directly to each stain and gently rubbing it into the fabric until they were saturated. I let the treatment sit for about 15 to 20 minutes then washed them in a cold water cycle with an additional 3/4 cup of the laundry detergent — as directed. Persil ProClean Plus OXI did not disappoint. The stains absolutely vanished in one wash. (It's like they were never there!)
My typical go-to stain removers and detergent would often help to fade the stains, but you could always see a trace or two left behind. Not this time around. I was super satisfied with this liquid laundry detergent's chocolate stain fighting power and with Halloween right around the corner, I thought it might be a good time to share it with the world.
If stubborn stains are the biggest sore spot in your laundry routine, you'll want to run, not walk, to the nearest store or your Amazon cart to stock up on this game-changing detergent.
What's your secret weapon for fighting tough chocolate stains? Tell us about it below!

Buy: Persil ProClean Plus OX, $24.69