Expect Workplaces to Become More Pet-Friendly After the Pandemic
We
independently
select these products—if you buy from one of our links, we may earn a commission. All prices were accurate at the time of publishing.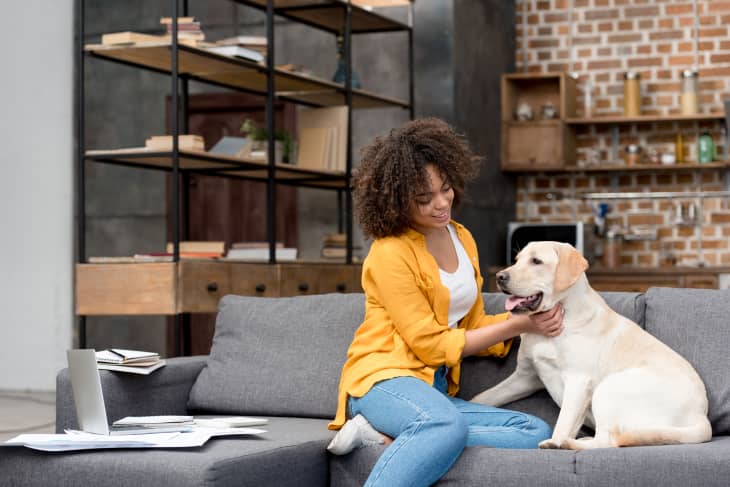 Workplaces are about to get a lot cuter. Employers plan to enact more pet-friendly office policies after the COVID-19 pandemic, according to a new survey. With a much more tightened bond formed between pets and pet parents after over a year spent at home due to quarantine, OnePoll and Banfield Pet Hospital found that humans worried about how their pets would acclimate upon their inevitable return to offices. Luckily, most employers will be empathetic to these concerns.
According to the survey, 1 in 2 executives said they plan to allow pets in the workplace post-pandemic, while 59 percent said they will allow more flexibility for employees to work remotely in order to be with their fur friends. Among those surveyed, 59 percent cited employee requests, 58 percent cited an understanding that staff have gotten used to all day pet presences, and 42 percent cited a desire to entice staff back into the office as the reasons behind the new policies. 
The rapid rise of pandemic pet adoptions has been well-documented, so these post-pandemic pet worries come as no surprise. OnePoll and Banfield found that, in all, 63 percent of respondents have been thinking about how their pets could fit into their workdays, with 57 percent revealing they'd be happy to return to offices if they could bring their pets. Respondents cited concern that their pets will experience separation anxiety as one of the reasons (38 percent), while others said their pets helped alleviate their stress (28 percent). 
"We've seen the human-animal bond only get stronger during the pandemic, and it's no surprise that owners are thinking about how they can best be here for their pets when they start to spend more time outside of home," said Brian Garish, president of Banfield Pet Hospital. "We believe we can advance human health through pet health, elevating societal well-being. That's why we'll continue to be here for pets and their owners as they adjust to this next normal, providing high-quality preventive care, no matter what 2021 brings."
For humans who can't bring their pets to the office, Banfield suggests consulting with a vet for advice. Banfield vets also offer the following transitional tips: 
Ease your pets into new routines
Avoid emotional departures or greetings
Keep up with daily exercise
Give your pets a fun distraction before leaving the house, such as long-lasting treats or their favorite toys