P.F. Candle Co. Has Launched Its First-Ever Refill Program
We
independently
select these products—if you buy from one of our links, we may earn a commission. All prices were accurate at the time of publishing.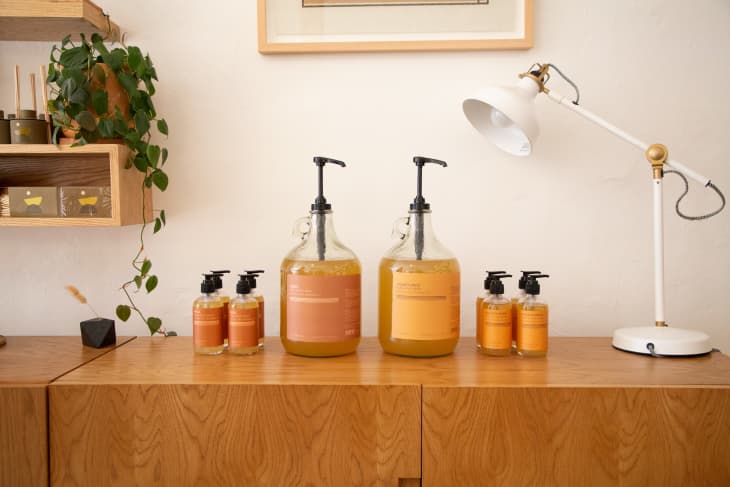 One of our favorite candle and home fragrance brands, P.F. Candle Co., is launching its first-ever refill program online. Already available in its Los Angeles and San Francisco stores, the refill program will be available on its website from Mar. 22, allowing customers across the country—and internationally—to enjoy the benefits of this new offering.
Customers will be able to save time, packaging, and money with the new one gallon bottles which are good for up to 16 refills of the reusable 8 oz Hand & Body Wash glass container, or you can keep the soap pouring with the 16 oz aluminum refill bottles, priced at $28 and good for two 8 oz refills.
P.F. Candle Co.'s popular Hand & Body Wash is made with a Castile-soap base and fine fragrance oils and comes in a range of gorgeous scents that will evoke a sense of calm and serenity. Teakwood & Tobacco is a woody and musky scent with notes of leather, teak, and orange; Amber & Moss is earthy and fresh with notes of sage, moss, and lavender; Swell is bright and aquatic with notes of black currant, sea moss, and tuberose; and Golden Hour is warm and mellow with notes of bergamot, hay, and golden poppy.
In 2021, P.F. Candle Co. joined forces with Climate Neutral, an organization that helps companies measure their carbon output, create carbon reduction plans, and offset their carbon footprint by purchasing carbon offset credits. By becoming a carbon neutral company, P.F. Candle Co. has determined the areas that they can focus on to reduce their carbon footprint, making the refill program an important step in the right direction for the company.
As well as hand and body wash, P.F. Candle Co. offers candles, room sprays, diffusers, incense, car fragrances, and more. Plus, in 2021, the P.F. Candle Co. founders Kristen Pumphrey and Thomas Neuberger released their first book,  "At Home With Fragrance: Creating Modern Scents for Your Space", teaching fragrance fans how to create their very own custom scents.