Phil and Bowha's Open and Airy Family Kitchen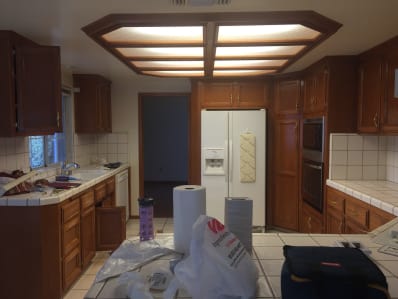 (Image credit: Submitted by Phil and Bowha)
Project by: Phil and Bowha
Location: Bakersfield, California
This beautiful home is located in the Southern California community of Rosedale, which was historically a country town that was founded as a colony of English farmers back in 1891. In recent times, this Census-designated area (which is located about 10 miles west of the great city of Bakersfield) has now become one of the fastest growing and most popular suburban communities in Kern County, continuing to grow in its population and attracting many young families as well as professionals who now happily call the area home. The neighborhood in which this home is situated in is known for its traditional, colonial style architectural designs in the homes, which have lots of charm and attracted us to the area.
(Image credit: Submitted by Phil and Bowha)
As parents of a two and a half year old son (we all recently moved from Los Angeles), our goal was to look for a home that had at least 2,000 square feet, all wooden floors, at least 4 bedrooms, a decent sized backyard and an upgraded kitchen. Our home met all of the requirements for what we wanted and we loved the overall layout except for the kitchen, which was very outdated and not very appealing to us. However, we did see the huge potential it had if we decided to renovate it. So that is exactly what we did!
(Image credit: Submitted by Phil and Bowha)
We wanted a classic white kitchen theme so we actually repainted all of the kitchen cabinets, open shelves and drawers ourselves while hiring out contractors to take out the old tile countertops and backsplash to replace them with new quartz white arabesque countertops with subway tiles for the new backsplash.
(Image credit: Submitted by Phil and Bowha)
We also switched out all the old handles and knobs and replaced it with gold colored vintage, modern ones. In addition, all of the old appliances were taken out and replaced with all new stainless steel appliances, electric cooktop and range hood. To top it all off we took out the old sink and put in a brand new farmhouse sink with a beautiful antique copper sink faucet.
(Image credit: Submitted by Phil and Bowha)
The kitchen island and two lights coming down the center complete the whole kitchen. We absolutely love our remodeled and renovated kitchen. Although a lot of planning, patience and work was involved, it was totally worth it to upgrade and fix our kitchen! It is a completely new kitchen from what it was before and there is a huge difference in how it looks and functions now. We marvel every time we look at the before and after pictures. We love our kitchen and enjoyed the entire journey while also learning so much from the experience.
Thanks, Phil and Bowha!
• Are you interested in sharing a decorating or renovating project with the Apartment Therapy readers? Contact the editors through our Makeover Project Submission Form.