I Moved My Phone 18 Inches In The Kitchen and It Changed The Way I Cook
We
independently
select these products—if you buy from one of our links, we may earn a commission. All prices were accurate at the time of publishing.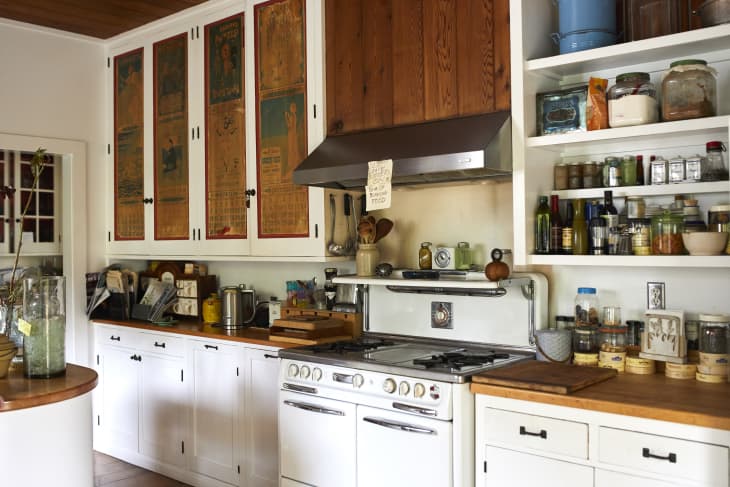 Like many people, I've spent a lot of time this year cooking at home—in fact, I've probably spent more time in my kitchen this year than I have in the past seven years I've lived in my apartment… combined. Due to a mix of shelter-in-place orders and a personal resolve to finally master my kitchen, I made it a mission to cook as many meals as I could while I worked from home.
According to a recent survey, 54 percent of respondents said they are cooking more due to the coronavirus pandemic, and 46 percent said they were baking more. But in the process of getting better acquainted with the kitchen, it's only natural that each space's pain points are going to finally bubble up to the surface. Mine wasn't a lack of space or storage, or even that I didn't know what the heck to do with that winter squash I lugged home from the supermarket on a whim.
Instead, my problem was a matter of ergonomics: Every time I needed to refer to a recipe on my phone, I'd realize my hands were often covered in dough or oil, so I needed to either wash my hands, or crane my head to an awkward angle in order to unlock my phone with its facial recognition software. It worked about half the time.
It was only after I grabbed a suction-powered phone cradle that I had bought on Amazon a few years ago to take better makeup selfies that I solved the problem. By moving my phone 18 inches up from my counter to my wall, I solved a host of problems (including a habit of splattering olive oil on my phone case).
The Airstik phone and tablet cradle isn't as high-tech as other options—there's no clamp to fight as you try to fit your device into its arms. You simply secure the plastic shelf, which is no larger than the size of my palm, to a clean glass, tile, or other nonporous surface, thanks to a sticky backing that promises not to damage your surfaces if you need to readjust it. Rest your phone in one of the shelf's three grooves, and—boom!—consider your installation complete.
Now, my phone is high enough so that I can unlock it using the face scanning feature whenever I want to refer to a new menu. I can also preview text messages or talk to my parents on FaceTime—and because the cradle is so close to my kitchen countertop, I can ask Siri to set a timer without needing to yell.
There are some limitations to the tool, of course, including whether your kitchen's backsplash or tile extends to your eye line, or if it even exists in the part of the kitchen where you cook most. I'm short enough so that installing the cradle on top of my kitchen's backsplash puts my phone at eye level, but my taller roommate still has to bend a little if she wants to unlock her phone. But each of us has taken to using the shelf whenever we're cooking, whether to FaceTime loved ones as we cook, call friends to catch up, or simply to play music with the peace of mind that we won't get food all over our phones.
As for the actual kitchen skills? Well, there's plenty of time left for me to practice. Unfortunately an instant ability to julienne herbs is among the few things Amazon doesn't sell… yet.