This TikToker Turned Her All-White Bathroom into a Pastel Vintage-Inspired Space
We independently select these products—if you buy from one of our links, we may earn a commission. All prices were accurate at the time of publishing.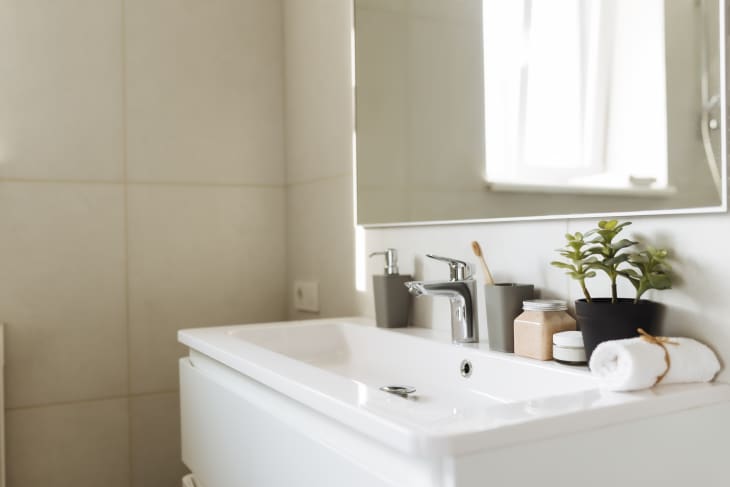 Even though it's been said that florals for spring aren't quite groundbreaking, one TikToker's incredible bathroom makeover might convince you otherwise. Colorful creator Kate Rose Morgan showed off her recent renovation, in which she transformed an all-white bathroom into a pastel maximalist paradise, and even color-shy homeowners are going to be taking notes on this one.
Every inch of Morgan's home is decked out in varying pastel shades and prints, so it makes sense why her bathroom would be, too, and it certainly doesn't disappoint. Sharing a video of her "fun vintage-inspired bathroom," the TikToker gave some behind-the-scenes info about all the hard work she put into turning the space into the maximalist bathroom of her dreams.
"Look at the poodles, hearts, peaches, mirrors…. Oh my goodness so many details 😍 and I had to get the shower curtain and bathmat to match! More is more 😂" she joked in her caption. Snagging a matching pink poodle-printed bath mat, shower curtain, and wallpaper from Catherine Rowe Designs, Morgan shared that she worked her "socks off" to transform her bathroom, painting a pink checkerboard pattern on the white tiles in the tub and adding a mint green hue to an adjacent wall. 
"It was worth the effort," she continued. "I really wanted to show you that even the smallest, practical spaces can be fun and colorful and you can do it yourself. I have always wanted to have a real vintage bathroom but unfortunately new builds don't come with those, so I made my own version!"
Morgan shared a follow-up post featuring a bathroom tour photo gallery, offering a glimpse at other quirky details in the space, such as a Barbiecore-inspired pink daisy side table (£289 or $359) from Trashy Home and pink candy stripe decorative vinyl from Get Kooky, which she applied to the bathroom's floor. She added plenty of kitschy accents, artwork, and accessories, including an Art Deco-inspired mirror with green-toned glass panels (£125 or $155) from Oliver Bonas, a baby pink bath tray, and plenty of faux florals for good measure.
Followers loved the retro vibe, with plenty especially in awe over the painted checkerboard tub. Although Morgan didn't share the exact shade of paint she used to create the look, she did note that she used tile paint, which will hold up better to moisture than traditional wall paint might. The end result is something truly unique and fun, which is exactly what the ideal living space should be, right?