Pinterest Just Announced a New Feature That Turns Your Camera Into a Search Tool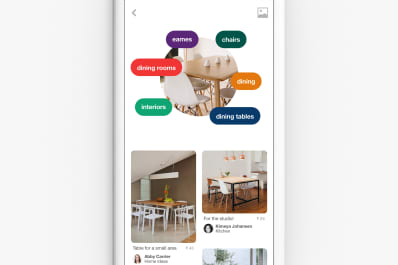 (Image credit: Pinterest)
Big news from Pinterest today. The social network and image sharing platform debuted a suite of visual discovery tools today, one of which turns your camera into a search tool.
"Humans are visual creatures. We use our eyes to decide if something looks good, or if it matches our style," the company says in its announcement blog post. "Pinterest is built for open-minded discovery. Just like when you're out window-shopping. You see something that intrigues you, and you go inside. That's how finding ideas on Pinterest should feel. And that's exactly what we're launching today."
The first of Pinterest's new tools is Lens. Lens is kind of like the Shazam for stuff: Snap a pic and Pinterest will translate it into keywords and show you visually similar images and related ideas.
Right now, Lens is in beta, and works best with home, fashion, and food. If you point Lens at a pair of shoes, you can tap to see related styles and ideas for what else to wear them with. Snap a table, and it'll find similar designs and other furniture from the same era. It also works with dinner; point it at broccoli or strawberries to quickly find recipes. "Patterns and colors can also lead you in fun, interesting or even just plain weird new directions," they wrote.
Here is Lens in action:
(Image credit: Pinterest)
The other two tools make searching and shopping much easier. Instant Ideas will show you related Pins right in your feed. If you see a Pin you like, just tap the circle, and more ideas will pop right up:
(Image credit: Pinterest)
Shop the Look is an extension of Pinterest's crop search tool—introduced in 2015 for pinpointing exactly what you want to see more of in any given Pin. Except now, there's a circle on each item that takes you to more info, and in some cases, lets you buy the item right on Pinterest. The company says that CB2, Macy's, Neiman Marcus, Target, and Wayfair are just a few of the brands that will be producing shoppable pins.