This TikToker Has a Smart Hack for Those Clear Plastic Drawers
We independently select these products—if you buy from one of our links, we may earn a commission. All prices were accurate at the time of publishing.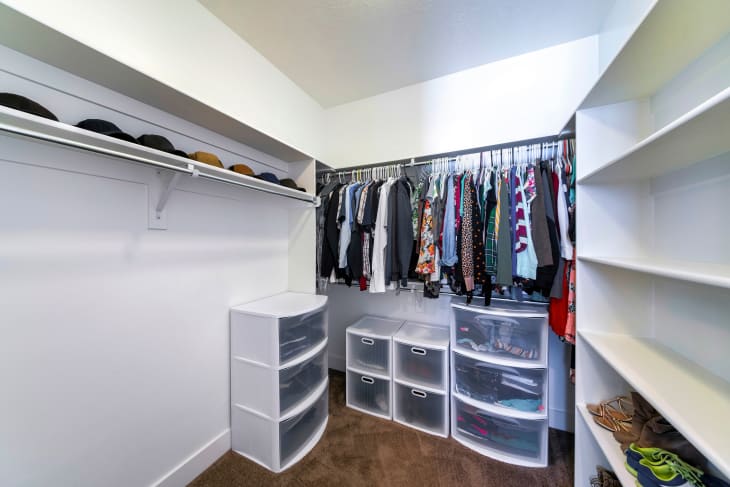 Clear plastic drawers are the quintessential organizing method for parents, teachers, students, and anyone who has a lot of stuff to store on the cheap, and it makes sense why they're a household staple. Not only can you easily see what's inside, but keeping them clean is also a breeze and you can hide them away in any room of the house where you need extra storage space but don't have the room (or desire) for more furniture.
Follow Topics for more like this
Follow for more stories like this
But sometimes, the classic set-of-three stackable drawers might not be quite what you need — perhaps you need more than three or your space calls for just one or two. One TikToker has found the solution, revealing that you can actually reconfigure the clear plastic drawers by adding or removing them as you wish. All it takes is a little bit of muscle and some patience, as Ceci Kane recently discovered.
In her video, Kane shared that in the middle of a "big closet purge," she realized that she needed four stackable clear plastic drawers instead of a trio. But when she couldn't find any sets of four, she improvised, buying two sets of drawers from Target ($16) for the project.
After removing the clear drawers, Kane located the seams at the corners of the frame, popping them off to separate each base as needed. "You're gonna think you broke it," she shared of the force needed, "But just muscle it."
And muscle it, she did, also removing the top of the frame to add on the fourth drawer she needed. The extra drawer snapped on with ease, and Kane showed off her well-organized closet with custom clear drawers in tow.
Commenters were in awe of the hidden hack, with one person calling it "adult Legos." Another joked, "That's better than my idea of sawing them apart and duct taping them together." Yet another added, "And for anyone wondering about how durable these are … I still have two from my freshman year of college. In 2002. And they've been moved 16 times."
It seems many people had no idea they were designed to do this, with one commenter simply writing: "Today years old," and another invoking the spirit of Sally Field in "Mrs. Doubtfire" by writing: "The whole time? The whole time! The *whole* time!?"

Yep, the whole time. Truly, who knew?