The Last Thing You Should Do with a Plastic Produce Bag
We
independently
select these products—if you buy from one of our links, we may earn a commission. All prices were accurate at the time of publishing.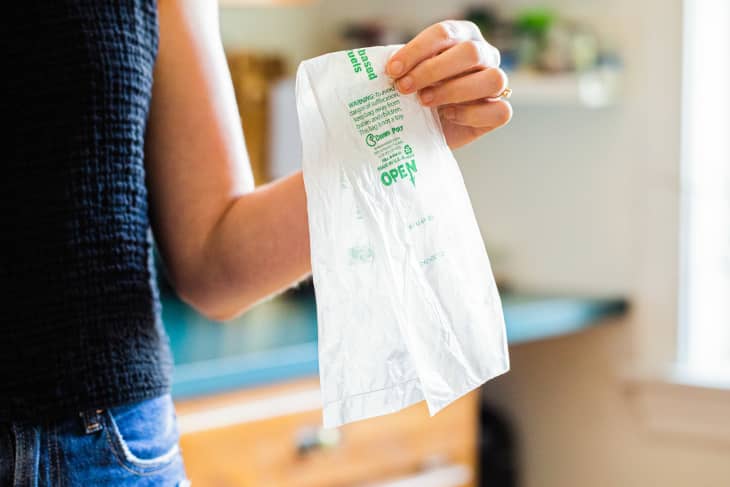 As much as I endeavor to have reusable produce bags ready for my grocery trips, there are many times when I've admittedly forgotten them at home. Other times, I load up on more fresh fruits and veggies than I have bags for. (Note to self: Buy a larger set!) So even with my good intentions of reducing waste, I sometimes still end up with a few of those thin, flimsy bags in my cart, filled up with lettuce, herbs, radishes, and more.
While I get that it's easy to just rip those bags open when it's time to start cooking. (They're so thin and doing so will make you feel so strong!) I'm here to suggest another way. Because once you tear a bag open, it's essentially rendered useless and then just bound for the trash. This other way? Carefully undo your knot and use the bag as a liner for small trash cans. Yes, it's still trash, but hear me out.
Reuse Produce Bags as Small Trash Can Liners
Lining bathroom trash cans makes them far more sanitary and keeps them as clean as possible. Line the can and then toss your trash in. While you can easily pull the filled bag out and tie it up for trash day, you can also empty this little bag into a bigger bag and get even more life out of your makeshift liner. Why not use it as many times as possible before throwing it out?
This will help you do a little bit to reduce your waste and it will also save you money. (No buying little bags when you already have some!) And again, it'll help contain bathroom messes. (No wet cotton balls sticking to the bottom of your trash can!) Bringing reusable produce bag is always going to be your best bet, but if you forget them or need a few supplemental plastic ones, at least you now have a good way to reuse them.