This Custom Pillow Might Just Change Your Life—And AT Readers Get an Exclusive Discount
We
independently
select these products—if you buy from one of our links, we may earn a commission. All prices were accurate at the time of publishing.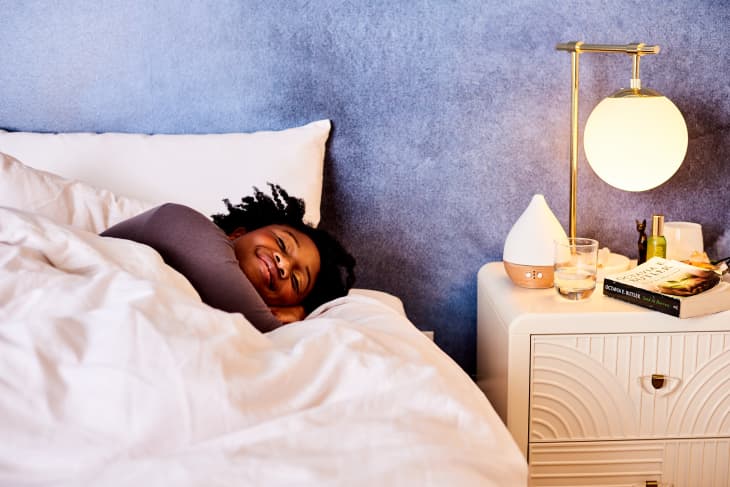 Now, let me be honest. Assigning any pillow a "best overall" superlative is risky business. The problem with pillows is that they are probably the most personal home product you can buy, except for maybe mattresses. Although mattresses can be adjusted with toppers if they don't feel quite right, pillows can't really be changed. After a few weeks of testing different pillows and realizing how difficult it is for one person to judge a pillow for everyone, I discovered Pluto and was instantly intrigued.
The newer brand launched two years ago with just one product: a completely customizable pillow. While there are pillows out there that have adjustable fills or layers, Pluto is the first to sell a truly customized pillow that is created for you based on your body and personal preferences. I knew I had to try it out for myself. Rather than choosing from a list of pre-made pillows, you go to Pluto's site and fill out a quick survey. Not only do you give your height, weight, and age, but you also share info on your current pillow and what your preferences are.
One the survey is complete, your custom pillow is made based on your answers. There are over 35 unique variations, but all of them are made from CertiPUR-US certified foams and come with a plush cover. One downside of this is that you don't get to see what your pillow looks like before it arrives, although if you use a pillowcase that shouldn't be too much of an issue. You also have a 100-night trial period, so you can always change your mind once it arrives.
Once my pillow arrived, I was, to put it mildly, excited. Would this pillow truly be the pillow to end all pillows? Reader, the second my head touched that pillow I was in heaven. The cover has a cooling quilted knit surface, which I found very satisfactory as a hot sleeper. I asked for something not too firm and not too soft, and my pillow strikes the perfect balance. It's supportive enough to keep my neck aligned, but soft enough that I stay perfectly comfy through the night. Plus, I found that it stayed comfortable no matter what position I moved into during the night (I typically sleep on my side, but inevitably end up on my stomach or back.)
My bed is currently a mishmash of different pillow types—I currently have two gel pillows, one down alternative, and one foam—so it definitely took a little getting used to. It feels a bit different from my other pillows, but not in a bad way at all. After a few days of using it, I actually noticed a difference in my sleep patterns and found myself waking up feeling more refreshed with no neck soreness.