This Ingenious Snack Bowl Puts an End to the Most Annoying Popcorn Problem
We independently select these products—if you buy from one of our links, we may earn a commission. All prices were accurate at the time of publishing.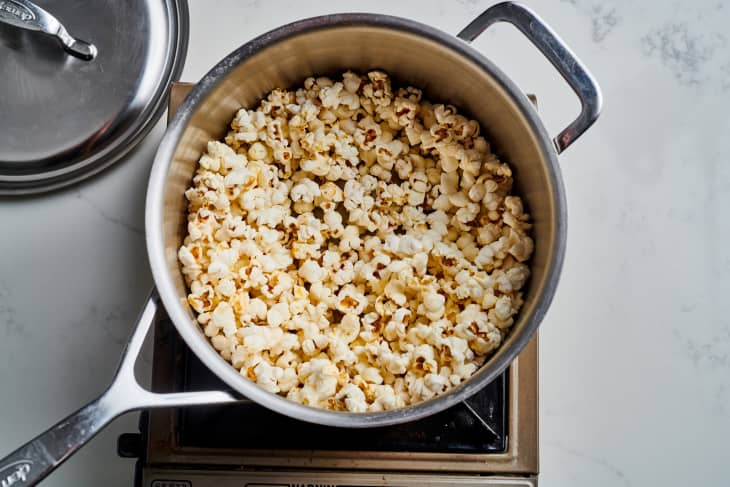 I consider myself a pretty good cook — I've worked at food publications, in catering kitchens, behind the bar, and as a prep cook, so the seemingly simple task of popping a bag of supermarket popcorn should be a breeze for me, right? Well, not really. No matter how many times I fiddle with the microwave settings, adjust the bag, or shake and flip halfway through, there always seems to be a bunch of leftover, unpopped kernels at the bottom of the bag. That being said, around 80–90 percent of the bag of popcorn is usually in great shape, which means the only thing I have to worry about is making sure I don't accidentally pop a whole kernel in my mouth and chip my tooth while watching a movie. Luckily, I recently stumbled upon a bowl from Uncommon Goods that solves this problem in an ingenious way. Allow me to introduce you to The Popcorn Bowl with Kernel Sifter.
What is The Popcorn Bowl with Kernel Sifter?
With a cleverly designed, colander-inspired bottom, this glazed stoneware bowl filters out all the kernels that don't pop into a secret compartment at the bottom for convenient disposal using the removable filtering disk. Made from durable, twice-fired stoneware, it's heavy enough to prevent accidental spills and can function as a fruit bowl or display bowl when you're not enjoying popcorn. (Heads up: This bowl is only meant for serving, not popping.) It also comes in two cool colors, Speckled White and Speckled Blue Spruce. If you're not a popcorn lover, this would make the perfect gift for the movie night fanatic in your life.
What Uncommon Goods Reviewers Are Saying
I gave this to my mom and step-dad as a thank you for throwing me a baby shower. They thought it was so cute, and GENIUS. They make popcorn a lot – so much they have a vintage popcorn maker. They use this bowl for popcorn and also for holding vegetables when not eating popcorn. — NM

Beautifully made and works well too- I got this for my Dad for Father's Day with the artisanal popcorn set and they love it! — Heather

I bought this to send to acquaintances as a thank you for letting me use their guest cottage for the weekend. Didn't really know their taste but felt this would be a fun gift. BIG hit – they loved it! Now I'm thinking of ordering them as Christmas gifts for my young married nieces and nephew. — Suzanni