Taking Care of a Plant Is Actually the Best Form of Self-Care
We
independently
select these products—if you buy from one of our links, we may earn a commission. All prices were accurate at the time of publishing.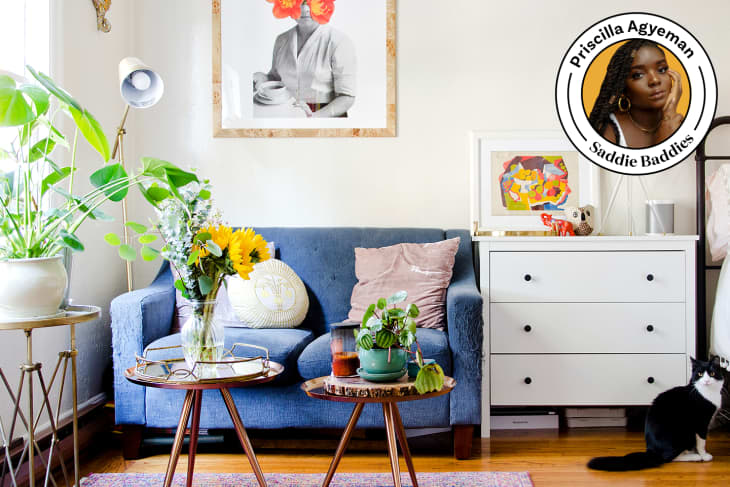 Happy Place is a brand-new editorial series dedicated to helping you live your happiest, healthiest life at home. Every week for 4 months, we're sharing quick, doable, and not-at-all-preachy tips that wellness pros, home decor experts, and Apartment Therapy editors actually use (really!). Sign up now to get 16 weeks of actionable advice in your inbox.
Happy Place is created independently by our editorial team and generously underwritten by Yogi® Tea.
If there's one thing the pandemic has taught everyone, it's that our home environment is critical to mental health. And when the spaces you inhabit are limited to, well, quite literally, the spaces you inhabit, finding ways to feel grounded becomes all the more difficult — especially when you're sharing a space with a partner, roommates, or an entire family. 
We talked to mental health activist and founder of Saddie Baddies Priscilla Agyeman to learn more about the one thing that makes her feel grounded, wherever she lives: her plants. 
"I really, really think that plants are God's gift to us," she says. "Having plants in your home is a reminder you're not alone and you're a part of the earth." She adds that having plants has also been linked to increased levels of creativity and focus, and decreased feelings of depression and stress. But it's even more than that for Agyeman. For her, plants are the ultimate form of self care. "When my plants are sick or wilting, a lot of times that means I have also not been watering myself." 
Read on (and listen in) to find out how she makes plant care a form of self care — and how you can, too.
No time to read? Listen to highlights from our conversation with Priscilla instead.
Choose the Right Plant for You
Some plants (e.g. a fiddle leaf) require more attention and maintenance than others (e.g. a snake plant). "Don't force yourself to own a really high maintenance plant if you don't have the time or energy to at the moment," Agyeman says. "Also, be mindful of how much light/humidity is in your home because that will definitely contribute to how happy your plant will be! Make plant parenthood work for you, not the other way around."
Water Your Plant with Purpose 
When Agyeman waters her plants, she does so with intention. "Sundays are my watering days because it's my weekly reset day which allows me to take care of the things I tend to not have as much time for during the week," she says. "I first check to see how their soil is looking before I water them. If it's super dry that means I haven't been paying much attention to them, and that they need more TLC.
"I try to be as centered as I can and to pour an intention of love when watering them because they really are my babies! I'll sometimes play some music in the background, usually something soulful or calm like SiR or lo-fi music."
You might think about wearing gloves to prune your plant's leave or check the soil, but Agyeman says that a hands-on approach is more grounding. "If you can't get barefoot (which is honestly hard to do in a city like New York!), then touching your plants is the next best thing. 
"Repotting is one of the most therapeutic parts of having plants because you get to see, smell and touch their roots and observe how healthy they are," she says. "It's a grounding practice in itself. But, even if you touch the dirt a little bit, it's a reminder: This is part of the earth and I'm part of the earth."
Giving your plant a name is a commitment to caring for the plant and caring for yourself. "It forms a healthy attachment to them and helps you remember they're part of your home, your sanctuary, and your family!
"All my plants have names although I'll be honest I do forget them sometimes," Agyeman says. "Right now, most of my newer plants are named after my favorite female artists. My oldest plant is six years old and his name is Sebastian. He's been with me through all the apartment changes that I've had and all the different boroughs that I've lived in." He's a sign of "resilience and how much I've grown in New York through all the changes and all the adapting that I've had to do." (And, in case you're wondering, he's a pothos.)
Ready to find your happy place? Sign up for the newsletter!