5 Pro Tips for Combatting Mid-Reno Regrets
We independently select these products—if you buy from one of our links, we may earn a commission. All prices were accurate at the time of publishing.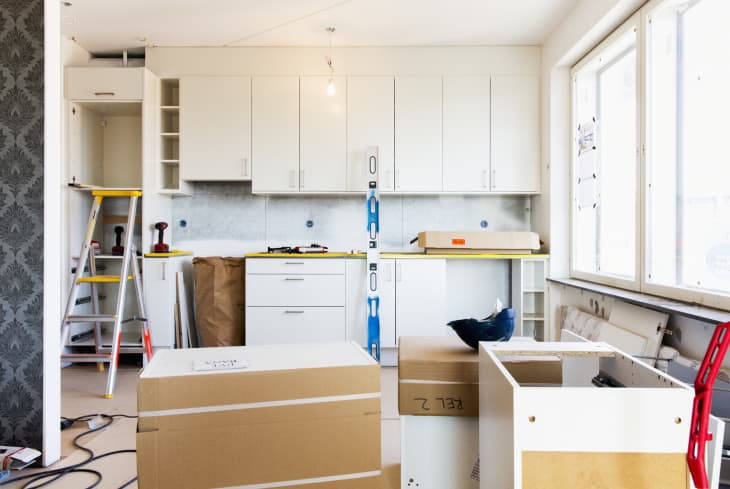 It's easy to get tunnel vision when thinking about your home renovation. When cabinets are falling apart and the walls are stained, or light fixtures are relics and flooring has seen better days, it can seem like all you need to do is choose a few things to make it better. And how hard can that be? After all, you're interested in makeovers just by reading this, and you've probably seen countless before-and-after transformations. 
Follow Topics for more like this
Follow for more stories like this
But as experienced as you may be with looking at renovations, going through one is usually much different. There are many more decisions to make than anticipated — like what happens if there's mold, or what color grout should be, or what makes for the best paint finish — and there's also the chance that you make a choice that ends up feeling bad. Given how many styles, measurements, and shades are considered before even attempting to land on the "right" options, it is possible to select the "wrong" ones. When that happens, and regrets begin to set in, it can be tough to know what to do next. 
"Mostly this happens with paint colors, because they can look so different after they're installed than as a sample," Jesse DeSanti, designer and owner of Jette Creative, says. "I've had to repaint a room here and there because the color just wasn't right. Thankfully, this is a low-budget item that isn't a huge deal."
Repainting is one thing, but larger issues can be much more complicated. DeSanti, interior designer Patrick Maziarski, and Julia Marcum, the designer behind Chris Loves Julia, all have their own renovation horror stories — and they want to keep you from experiencing the same "what now?" feeling on three possible renovation mistakes. Read to see how they would handle projects that didn't exactly go as planned, so that you know how to handle a mid-reno regret. 
What to Do if You Hate Your Floors
All of the designers note that it's tough to replace flooring once it's installed, since it can take up so much of a renovation's budget. The first way to avoid regret, DeSanti says, is to catch the misstep prior to installation and see if the entire order can be returned. But if it's already set and isn't what you had in mind, Maziarski recommends refinishing hardwood in another shade. "However, if you're in a desperate spot and can't do anything about that, then rugs and lighting can change the appearance," he says. (That's particularly helpful for materials like porcelain or vinyl can't be painted or stained.)
In keeping with clever design tricks, Marcum recommends turning to the color wheel if a flooring choice isn't right. "You can manipulate how the finish appears with paint colors on the wall," she adds. "If the flooring looks too orange, for instance, then stay away from blue paint colors."
What to Do if You Hate Your Cabinets
All three designers note that installing new cabinetry is expensive, but repainting it is not. "Sometimes a different color makes all the difference," Marcum notes. And yet, if it's the fronts that you have a problem with, those can be switched out, too. Look for companies that sell a range of fronts, like good ol' IKEA, or consider a span open shelves instead of upper cabinets. "You could also replace the hardware to edit their overall appearance," Maziarski says.
As with any major shift, particularly with architectural changes larger than cabinets, DeSanti notes that you should stay in the know if you've hired professionals for certain jobs. "You should be constantly making site visits so see progress and make changes as things go," she says. 
What to Do if You Hate Your Lighting
When it comes to choosing the wrong lighting, it is possible to get your money back more simply than with other renovation items. Reselling it, the designers say, is a great way to sidestep this regret. "And for any recessed or embedded lighting, replacing a bulb with a more desirable color temperature can do the trick," Maziarski says.
What to Do if Plans Change
Marcum remembers when she had a big window installed in her living room that was framed in steel beams to protect the house from strong winds. Once the window was installed, she realized the frames were much thicker than she anticipated — and there was nothing she could do about it. So, while it is necessary to plan ahead as much as possible, there are likely going to be details that don't entirely fit the picture you have in your mind. 
"I do my best to embrace them," she says. "There's so much power in thinking, 'I wish we wouldn't have done that. Take the power out of regret, accept what happened, and pivot. Instead of the window being a delicate arch, we started thinking of it as a piece of art. We brought in a lot of other black accents to balance it out, and kept the rest of the room airy. It really grew on us!"
If Maziarski and DeSanti could add anything to this advice, it would be this: trust your gut, but be as thoughtful as possible. "Refer back to your original inspiration to make sure you stay on track, and always do the research — maybe you can afford something after looking into it," DeSanti says. "Also, take your time with the design process and don't go too fast. Ideally, you should live in the space for a bit before you do any work, too. That will help you to know for sure that you're making the right decisions."
What to Do if You're DIYing
It's no surprise that these designers think it's best to hire a pro for the job—especially when it comes to avoiding problems and making the most of your money. But they also know that people are interested in designing alone. So Marcum has some parting words of advice to help keep your nerves in check.
"If you want to do it yourself, definitely get samples, and take those samples into the room where you're going to use them," Marcum says. "If you're laying tile, bring all of the tile samples into the room and see how they look in that specific space with that specific lighting at different times of the day. It's so tempting to choose a paint color while you're at the hardware store or playing on Pinterest, but you'll be so much more confident in your decision if you see the paint swatch in the room where it's going."