6 Pros and Cons of Buying a Middle-Unit Townhome
We independently select these products—if you buy from one of our links, we may earn a commission. All prices were accurate at the time of publishing.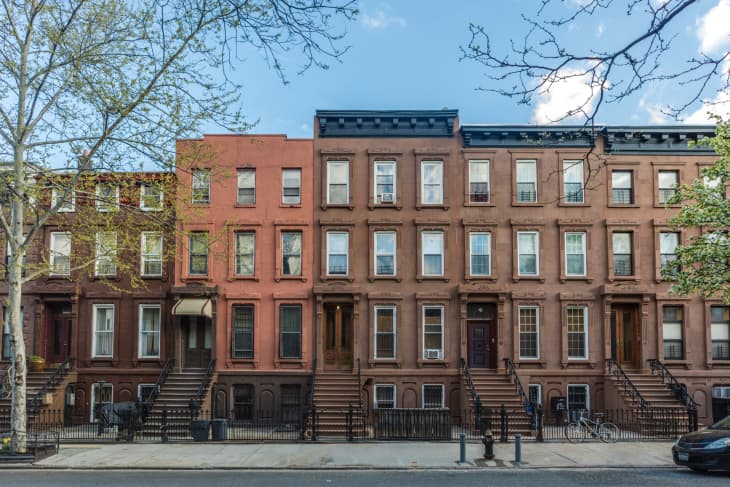 End-unit townhouses tend to get all the glory in real estate listings. For starters, there are far fewer of them, so availability isn't a given. Especially if you live in a crowded city, there's a lot to be said for having the extra breathing room that end units provide. But does that mean that you should pass up a middle unit that you love? Not at all. Here's a look at what life could be like in the middle.
Follow Topics for more like this
Follow for more stories like this
Pro: You could save on energy costs.
A middle unit can feel cozier in the winter because it has more insulation, so you could stand to save money on your energy bills. It's not just because you've got heat pumping through from the neighboring units, although that certainly helps. It's more that your middle unit simply doesn't have as many exterior surfaces exposed to cold winds. The same goes for absorbing the sun's rays in the summertime — you could feel cooler even though you're tucked in the middle of the row.
Pro: You could deal with less exterior maintenance.
This is a moot point if you happen to have a homeowner's association (HOA) that takes care of everything for you. But if you don't, you'll be thrilled to live in a middle unit with fewer windows to clean, less siding to power wash, and possibly even a shorter sidewalk to shovel in wintertime.
Pro: There could be better security.
Lisa, a brand strategy and communications consultant, previously owned a townhome in Staten Island, New York. She had a fenced-in backyard attached to three different yards — two on the sides and one in the back. 
"From a security perspective, I felt safer because a criminal would have had to basically hop three fences to get into my yard to access the back door," she says.
Con: There are neighbors on both sides.
Your next-door neighbors can make or break any living situation. But with a middle unit, you'll have to hit the good neighbor jackpot on both sides.
Lisa shudders to think of her former living situation with loud neighbors who partied hard every chance they got. "They destroyed my peace," she says, noting they would also block her driveway and leave garbage piled up outside, among many other unneighborly behaviors. 
The experience could have soured her to townhomes altogether. But Lisa is now living happily in another townhouse, this time in New Jersey. Her new, more polite neighbors have helped restore her life to a quiet calm.
Con: There could be limited access to the backyard.
While a middle unit might cut off backyard access to would-be burglars, it could also limit it for the occupants. Assuming your back fence doesn't have a gate that opens onto another street, the only way to access it would be through your home, as opposed to, say, along a path around the side of your house. Lisa was reminded of this disadvantage when landscapers removed a dead tree from her backyard and had to take it through her house and out the front door.
Con: You might have a lower resale value. 
End units will typically command more money at resale.
"It isn't that the middle townhouses are harder to sell," says Christopher Totaro, an agent with Coldwell Banker Warburg in New York. But there are a lot of them. "The overwhelming majority of townhouses are bound on each side by another townhouse or structure, given there are only four corners on most streets." Totaro notes that some might have easements between houses as an exception to the rule. Corner units in general, though, can nab a higher price because they tend to have three exposures, which means more windows and far more natural light streaming in. They also tend to be quieter and offer more space, depending on the construction.
Is an end-unit townhome the unicorn of urban real estate? It might be. But Coldwell Banker Warburg broker Rachel Ostow Lustbader says that none of her buyers have ever requested a corner townhouse property. (She notes that zoning laws limit their existence in Manhattan, though there are more in Brooklyn.)
Additionally, when it comes to city townhomes, "while corner townhouses have the advantage of an additional exposure and additional source of light, the disadvantage is that they are noisier and less private than mid-block houses," says Lustbader.
"The townhouse market in Brooklyn has been extremely active for several years," she says, "and, when appropriately priced, mid-block homes are seeing bidding wars and selling at or over the asking price."