This Heated Weighted Blanket Feels Like a Warm Hug and Has Me Looking Forward to Fall
We independently select these products—if you buy from one of our links, we may earn a commission. All prices were accurate at the time of publishing.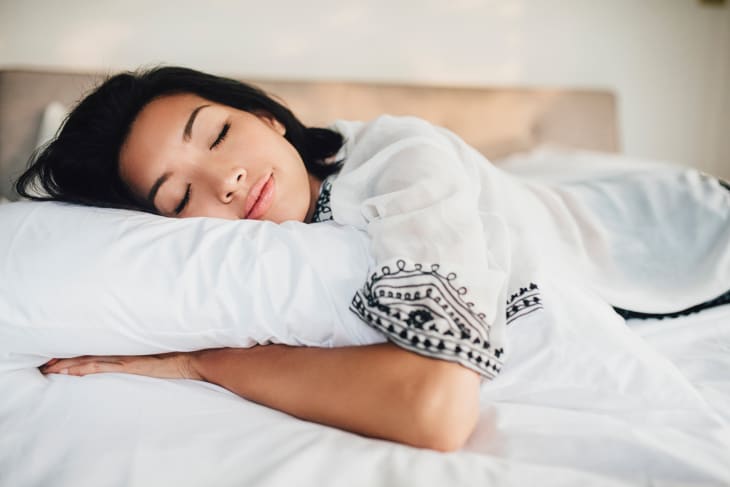 How many blankets are too many? I've built up a nice collection over the years and I really don't see a cutoff point. Variety is important — not all throw blankets are built the same — and though it's easy to primarily consider styles and colors, don't forget that bulky picks shouldn't be overlooked. The closer we get to our peak-of-summer breaking points, the more we dream of cooler weather, right? What better way to ensure cozy heat than with a blanket that's soft, snug, and toasty? Pure Enrichment's WeightedWarmth 2-in-1 Blanket checks all three boxes.
The 2-in-1 WeightedWarmth Blanket is exactly as it sounds: a weighted throw blanket with heat. It's 13 pounds of micromink sherpa with glass beads sewn strategically to provide an even distribution of weight. An added bonus is that the power cord is detachable, so heat is conveniently optional for those of us who won't feel the relief of cold weather anytime soon. There are four settings (warm, low, medium, and high) with the highest temperature reaching 105 degrees, and a built-in timer that automatically shuts off the heat after two-hours of consistent use. Right now, it's way too warm outside for a heated blanket, but after trying out each of the settings, I found that medium heat was my sweet spot. I turn my A/C low at night to cool the apartment down before I go to sleep, and nearly dozed off on my sofa from how soothing the blanket felt!
Without the heat, this weighted throw is SO comfortable. Though the material seems like it would only be suitable for fall and winter, it's not unbearably warm, making it just as cozy in the summer and spring. It's incredibly soft, based on how I couldn't stop passing my hands over it like a cherished pet, and I could barely tell that it was weighted in the middle of the blanket because of how well the beads are distributed. They don't roll to one side of the other and bulk up in odd places, so when the 50-by-60-inch throw is draped over you, it's smooth all over. For about a week straight, I camped out on my sofa after wrapping up my work day, catching up on Netflix shows with the WeightedWarmth blanket up to my neck. At times, I would even forget that it was weighted until I went to stand up and it actually took some effort to pull the blanket back.
My bedroom is the warmest room in my apartment, so I'd rarely layer this blanket on top of my bed sheets, but I'd recommend it for anyone whose bedroom tends to get very cold. (This one's for you, Mom!) It really makes you feel like you're safely tucked in, and I'd often find myself mellowing out from how snug it is. It's for sure the blanket to reach for when the leaves start changing and days get colder. I'm already dreaming of lazy evenings with a hot drink in hand and a warm blanket around my shoulders. When it comes to relaxation and comfort, maybe there's no such thing as too much!