The Genius Gift That Actually Lets You Do Jigsaw Puzzles in Small Apartments
We
independently
select these products—if you buy from one of our links, we may earn a commission. All prices were accurate at the time of publishing.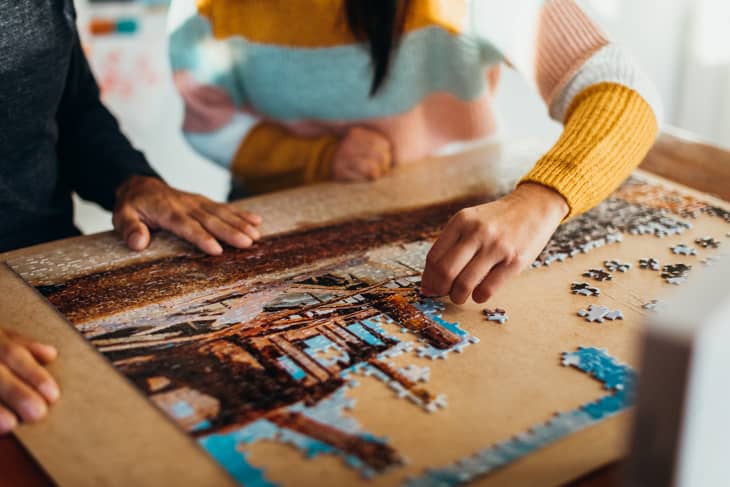 As a lifelong jigsaw puzzler, it took me a long time to accept the fact that working on 1,000-piece puzzles in my studio apartment just… wasn't realistic. My dining table is the only surface large enough to hold all of the pieces, and when I started working from home in March, I realized that it wasn't big enough to be a combination dining table/desk/puzzling area. I have a coffee table, but it's a lot smaller, and I need a place to, you know, put other things. As a result, I just didn't do any puzzles from March to August, and let me tell you, it made social distancing (I live by myself) even more joyless than I'd expected.
Fortunately, my sister heard my woes. Puzzles are a big part of my self-care; I do them to wind down at the end of the day, work on them while watching TV or on the phone, piece them together when I'm feeling stressed or need a screen break. (You can only imagine how important a release like that is right now.) She heard me talk about how I was missing this outlet during a time when everyone needs their go-to routines—and then some—to feel somewhat OK. So when I off-handedly mentioned to her that I saw a puzzle board on Amazon that would seemingly let me do puzzles wherever I wanted without taking up precious table space, she said, "Send me the link."
A few days later, this bad boy showed up in the mail, and from the minute I slid out the slim, spacious drawers, I knew it was exactly what I needed. And I was right.
The four drawers (two on each side) let me store pieces I don't need at the moment, and divide everything up by color, shape, or section, depending on the puzzle. Not only does this keep the board uncluttered, it also means I can whip out a drawer and sit and work on whatever's in there from the couch, table, or wherever else I want to go in my 500 square feet.
Most importantly, I can move the board wherever I need to without disrupting the puzzle work I've already done. I can put it on my dining table, and then move it to my coffee table at dinner time, and if both surfaces are needed, I can plop it on the floor or stow it underneath one of the tables. It's a little heavy, but that also means it's sturdy and well-made—more than justifying the slightly high price tag.
I've always been someone who's especially appreciated practical gifts or experiences, and to me, this has the added layer of being extremely thoughtful. It's allowed me to engage in one of my favorite activities—pandemic or no—which is crucial in a time when almost all of my pleasure has to be derived from within the confines of my home. Moving the board lets me clearly define what is a work space and what is a fun space, a necessary thing in a small home. I don't have children or pets, but I imagine this kind of thing is especially good for when you want them to keep their grubby paws off of the progress you've made on Vincent van Gogh's "Starry Night."
If you know anyone who loves puzzling, lives in a small space, or both, give them the gift of a puzzle board this year. It might just be the best thing they never knew they needed.