How Hosting a Chaotic, Queer Dinner Party Can Be So Affirming
We
independently
select these products—if you buy from one of our links, we may earn a commission. All prices were accurate at the time of publishing.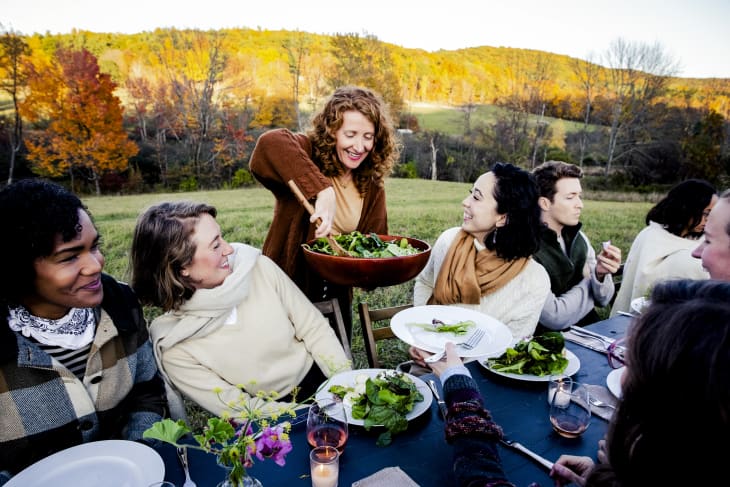 Listen: you've just been dumped by your hetero partner and find yourself in a city you only dreamed you might live in someday. The year is 2018, and it's a warm spring in San Francisco. Why the Paris of the West? Growing up in rural Central Washington, visiting San Francisco as a 14-year-old was more than inspiring — it was raw escapism. On my first roadtrip there, I remember writing transgender fan fiction which I would post to Deviantart to a not-too-shabby audience; I remember thinking about the adult man I met during a local production of "Peter Pan" and was smitten with years before I thought of myself as gay. 
The following months post-break-up saw my new sugar daddy driving me around the Bay Area in pursuit of employment and permanent housing, the latter of which was a room in a floor of a house in the Inner Sunset neighborhood. I'd always loved to throw parties, but right away, I could tell that inviting people to my new place was going to hit differently.
When I describe the ideal dinner party in your ideal city, (as many more than San Francisco have enriching gay and queer histories) I want you to throw your Alison Roman-level ideas out the window, as "unfussy" as she may be. This is also not a guide for the now very online dinner parties made famous on TikTok. Your party doesn't have to be ritzy, you don't have to serve dinner, but it can also be both ritzy and explicitly about serving dinner. The whole point is to revel in your new home and allow who you are to flourish through the kind of party you throw.
Set expectations for yourself and your guests
While I've set the bar very low, there should be a few ground rules before hosting a shindig. Hopefully, you'll feel at ease talking to any and all guests who come to your apartment or house. After all, they're your guests. And in that spirit, it's wise to be prepared for how you extend invitations; I was looking for as many friends as possible when I threw my first parties at my place in 2018, and consider myself a talkative, extroverted person. It was healing and beautiful for me to be surrounded by a myriad of people, many of whom I'd go clubbing with in the Castro and SoMa after being merry at mine. If that's not you, or not where you're at, make sure to invite people that you feel safe and seen with, and ask them to only bring guests of the same matter. Time-oriented expectations are of course useful; you don't need to keep the lights on all night, and it's important to communicate a wrapping-up time to guests from the jump.
What to eat and drink at your dinner party
Your party may very well be as well-prepared as New York's Babetown, and, if so, that is amazing for you. For a Thanksgiving dinner party, which ended up being quite wild, I asked friends to bring food. Steaming trays of lumpia, Chinese take-out from down the street, and Safeway cookies were all welcome. That was in addition to a trove of wine and beer. But, this is your place: if you don't drink, don't want or can't risk people staying the night to sleep off their drunkenness, or would prefer to set a different tone, ask folks to respect your wishes. Cooking a proper, plated feast in advance, or ordering ready-made meals and asking guests to Venmo you, is a smart move, too (as long as you ask in advance about dietary restrictions, and never spring a Venmo request unannounced on a friend!). It's reasonable to spend $100 on a night for ten or so guests; sending people home with leftovers is a classy move.
How to make sure there's enough room and seats
Now that you've got a guest list and a menu (again, as flexible as you do or don't want those things to be), it's important to locate the center of attention in your space. Is it the kitchen, where guests lean on tiled counters and knock back just-poured mojitos? Or is it the living room — if you are blessed to have one — with its freshly-moved-in vibes and quirky Goodwill art? Whatever the case, the dealbreaker lies only if people are uncomfortable or confused about where to hang out. For a classic dinner party, of course, you'd want to prepare a dining table with enough seats for everyone. But I know for the series of liberatory dinner parties and wine nights I threw at my place in San Francisco, guests were smoking on the front steps and in the backyard (read: gravel pit with hammock) and dancing on the coffee table. It's your chance to be yourself in your new space — plan accordingly, and enjoy.