These Twitter Reactions to the New Season of "Queer Eye" Are Doing the Absolute Most
We
independently
select these products—if you buy from one of our links, we may earn a commission. All prices were accurate at the time of publishing.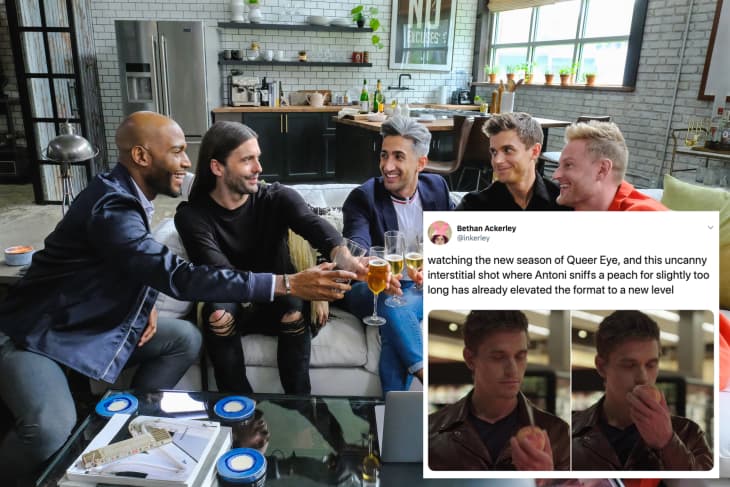 It's the weekend we've all been waiting for: "Queer Eye" Season 4 is finally here! It's only been four months since we were given the gift of new "Queer Eye" episodes, but somehow, it feels like a lifetime. If we had it our way, a new season would drop on Netflix every single Friday. But still, eight brand-new episodes with eight brand-new awe-inspiring heroes will definitely keep us going until the four-episode special "Queer Eye: We're in Japan!" arrives later this year and Season 5 drops in 2020.
The new "Queer Eye" season is one of the most moving yet. It starts off with a one-two punch: First, the gang meets Kathi, Jonathan's high school orchestra teacher who always puts her students first (and has rocked the same red mullet since the '80s). Then, they meet Wesley, a community activist who is paralyzed from the waist down. Season 4 only gets better from there, and this may be our favorite batch of heroes yet.
We're not the only ones screaming "YASS, HENNY!" at our TVs this weekend. After we binged all eight episodes in one sitting, we checked Twitter to see some of the best reactions to "Queer Eye" Season 4. Here are 10 of our favorites.
1. These perfect screenshots about being in the presence of a Corgi.
2. This picture of Wanda, which is both our forever mood and our new favorite meme.
3. This touching moment when Wesley saw his new wheelchair-accessible bathroom for the first time.
4. This actual footage of us watching Kenny's episode.
5. This moment when Antoni did the absolute most in the grocery store.
6. This mood board that's seemingly random but makes perfect sense if you've watched the new season.
7. This Bobby quote that we felt in our bones.
8. This meme that makes us feel seen.
9. This tweet that's so relatable, it deserves an award.
10. This reminder that "Queer Eye" really does make everything better.
If you need us, we'll be re-watching "Queer Eye" Season 4 over and over.