4 Questions Home Stagers Are Tired of Hearing from Potential Buyers
We independently select these products—if you buy from one of our links, we may earn a commission. All prices were accurate at the time of publishing.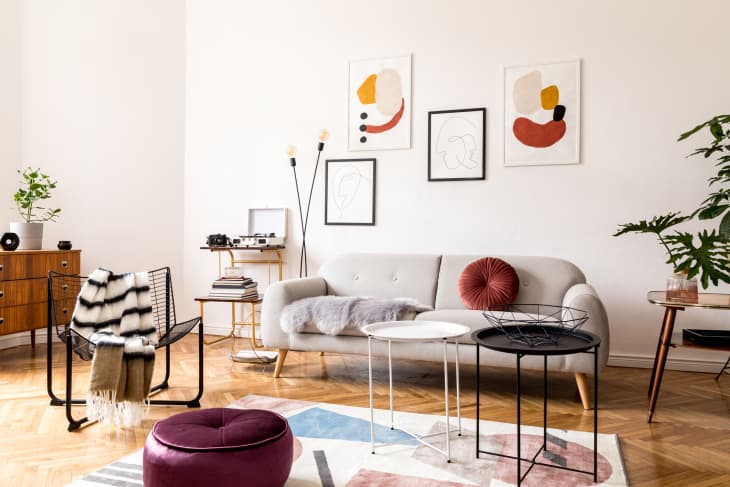 Home stagers can transform ordinary homes into must-have properties simply by correctly styling the space. While this is a great way to help sellers get top dollar for their homes, it can also create a bit of a headache for stagers who find themselves dealing with potential homeowners who end up more focused on buying the staging sofa than putting an offer in on the property. I spoke with two home stagers to find out what their biggest pet peeves are when it comes to styling a home — and how you can avoid asking the wrong questions while you're looking. 
Follow Topics for more like this
Follow for more stories like this
While many times items like refrigerators and washing machines come with the house, decor items are rarely included in the sale. That's why Rudolph Diesel, an interior designer and home stager, doesn't like it when potential buyers ask if they can purchase items like artwork or furniture. 
"Even if they aren't the homeowner's own items, the furniture and decor used for staging are specifically selected to showcase the home's potential and are not available for sale," he says, adding that buyers should think of these items as a home stager's tools of the trade, like a make-up artist's brushes or a builder's drill set. "Items like sofas are huge investments for a home stager, so they will often be used in multiple stagings — meaning they aren't up for sale," he continues. 
If you do really like an item in a home, Diesel says it's often better to ask where it came from so you can source one for yourself.
"I don't like this layout, can I move things around? Or bring my own furniture to see how it looks?"
One of the key selling points of a home is just how easily you can picture yourself (and your stuff) in the space. While a good stager may be able to help potential buyers picture themselves in the seller's property, they would rather buyers do it with their imagination instead of actually making themselves at home. Diesel says it's best to focus on the potential of the home as it is presented by looking at the staging as just an idea of what the space could be, not how it has to be. 
"Generally, a home stager will ensure that the furniture and decor are specifically chosen to showcase the home's potential, such as allowing in the most light and showing off any interesting features, so if you start to move things about or bring in your own furniture you will lose some of that impact — and likely be left disappointed."
"Can I change that wallpaper?"
Chris Matthias, an interior designer and founder of HouseAdorable, says that once you own the home, you'll be free to change whatever you want. So it can be a bit off-putting to hear buyers spend so much time talking about the things that they would personalize on their own. "It's honestly exhausting when people ask too many questions about decor pieces that don't stay on the property once sold," he says. "Things like 'Can I change that sofa?' 'Can I change that wallpaper?' 'Will that rug stay? I want it gone,' are so unnecessary, especially after explaining that the furniture will go once the sale is finished." 
He continues, "I have had customers focusing only on temporary pieces that have spent the whole tour inquiring about sofas, chairs, and paint instead of focusing on the property's conditions." Mattias hints that it's best to pay attention to the property and not the way it's been styled for the sale.
"Can I talk to the homeowner?"
Another question Matthias wants people to skip is, "Can you give me the owner's contact info?" He says normally that is followed by an honest declaration of wanting to buy directly from the seller because they think they can get around Matthias' home staging efforts and snag a deal on a piece of decor from the owner of the property.