Quick Tip #14: How to Keep Pets Off Furniture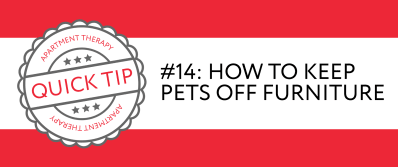 Every well-run home is teeming with tricks and shortcuts to keep it humming along. We're sharing our best quick tips — for cleaning, organizing and repairing stuff at home — to save you time and money. Click through for today's helpful hint, and links to tons more...
Pets, in general, aren't comfortable walking on strange surfaces that make noises. Try placing a piece of ALUMINUM FOIL (or bubble wrap) on the area in question and leave it for two or three days. Remove the foil, but don't discard it just yet! You might need it again. See if your kitty or dog goes back to that spot. This might take a few days or even a week. If the behavior has stopped, you're done! If your pet realizes his favorite sleeping spot if available again, replace the foil and leave it there for a week. Repeat the process until they get the idea.
MORE HELP
Our Sites:
Around the Web: