I Finally Found a Dupe for the Hotel Pillows That Gave Me the Best Sleep of My Life (and They're on Sale!)
We independently select these products—if you buy from one of our links, we may earn a commission. All prices were accurate at the time of publishing.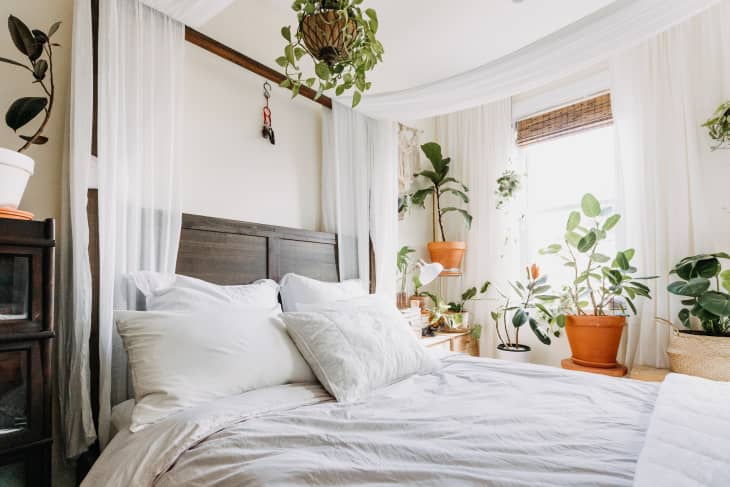 Back in April, I made a trip to Boston for a week-long visit with family. Because I had to work most of the time and needed a spot to conduct Zoom meetings, I booked a hotel room instead of staying in the spare bedroom like I usually do. When I arrived, the room was perfect — spacious, bright, and the bed looked so inviting: king-sized and covered with lots of pillows. After a few hours of work, I had dinner, watched TV, and called it an early night. Placing one pillow on top of the other, I went to bed and immediately drifted off into a blissful, uninterrupted sleep.
Now that may not sound unusual, but I had not had a decent night's sleep in months. I'd been waking up constantly, was always exhausted, and had trouble functioning during the day. But there seemed to be something magical about these pillows that made me sleep straight through to the morning. They were ridiculously soft, and my head felt like it was in a cloud (in a good way). I thought that first night was a fluke, but I slept just as soundly every night of my stay.
Clearly, I needed these pillows. When I asked the receptionist if she knew which brand they were, she said it was just some random supplier that makes pillows for hotels. Once I got back to New York, I was determined to find a match for the hotel pillows. As it turned out, I was halfway there: When I went to bed that night, I realized that the soft/medium Quince Premium Down Alternative Pillow I already owned was practically a dupe for the hotel pillow. It was luxuriously soft and almost squishy; the problem was that I had been pairing it with a much more firm pillow underneath, instead of another soft one, as at the hotel.
I hopped online immediately and ordered another soft/medium Premium Down Alternative Pillow. I also added a medium/firm one to my cart, figuring I could use it to support my back when I'm sitting up in bed. Once that second soft/medium pillow arrived, I took it for a whirl with the one that I already owned, and it was just like being back in that hotel bed. They felt heavenly to rest my head upon, and I enjoyed uninterrupted sleep that night — and pretty much every night since.
Now, if you are someone who needs a little height under your head when you sleep (as I thought I did), these may not be the pillows for you. But if you are looking for soft, fluffy, pillows that feel luxurious as your head gently sinks into them, you may want to give these a try. They've given me that same fancy hotel experience (without having to pay for a room!) and truly changed the way I sleep for the better. All in all, a dream come true.

Buy: Quince Premium Down Alternative Pillow (Soft/Medium), $39.90 (normally $69)