I Can't Stop Talking About These Luxe, Fast-Drying Bath Towels, And They're Half the Price of the Fancy Brands
We independently select these products—if you buy from one of our links, we may earn a commission. All prices were accurate at the time of publishing.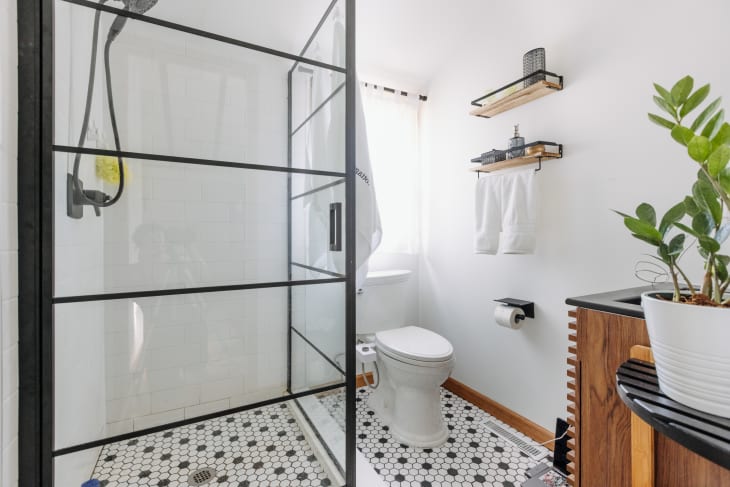 Like many of you, I've long been on the hunt for super-absorbent bathroom towels that don't take two hours to dry in the dryer, aren't damp hours after taking a shower, and make my bathroom feel like a fancy spa. Let me tell you: It hasn't been an easy shopping journey. After testing towels upon towels, I still couldn't find the goldilocks of bathroom towels that were soft, yet fast-drying. They'd either be ultra-plush but would take what felt like years to dry (and my communal laundry room is not a place I want to be in longer than I need to), or they'd be as thin as a piece of paper and dried fast, but didn't feel luxurious.
Follow Topics for more like this
Follow for more stories like this
Finally, my never-ending towel woes came to an end when editor-loved brand Quince offered to let me try their Organic Turkish Waffle Bathroom Towels. Immediately, I knew these were the affordable, hotel-worthy bathroom towels I'd been in search of my entire life. Living in a tiny NYC studio, everything I put in my bathroom counts, and these hotel-worthy linens deserve the space they take up. Not to mention, I also don't have any ventilation in my bathroom (except for a super skinny window) so it's vital that my towels dry fast so they don't get moldy.
When it comes everything I put in my teeny-tiny apartment, it has to be stylish and ultra-functional, and these Turkish towels fit the bill. Not only do they look pretty in my small bathroom, but they are super high quality, too. Made with 100-percent organic Turkish cotton, you can instantly feel the difference when you switch to these towels. Its one-of-a kind weave is so soft (you won't be able to stop touching it!) and durable, so they'll last for years to come. While they're super lightweight, they're also super absorbent. I used to use ultra-plush towels that would absorb the water after I showered, but took what felt like a lifetime to dry after I washed them. This set of two towels is the best of both worlds.
The set of two is just $50, which gives you the look of some splurgier brands for a fraction of the cost. I also have the matching hand towels (I recommend getting the bundle), which you should definitely add to your cart for a fully coordinated bathroom experience. These towels make my less-than-fancy apartment bathroom feel like a little spa oasis, and if you're looking to instantly elevate your space without breaking the bank, this is just the thing to do it. Plus, they come in a mix of colors to suit your style.
And yes, these Quince towels are such a game changer that I have to tell every person who comes over about them. And you'll want to do the same once you add these to your bathroom setup!