Real Estate Agents Bemoan Popcorn Ceilings, And These 3 Reasons Should Convince Sellers to Ditch 'Em
We independently select these products—if you buy from one of our links, we may earn a commission. All prices were accurate at the time of publishing.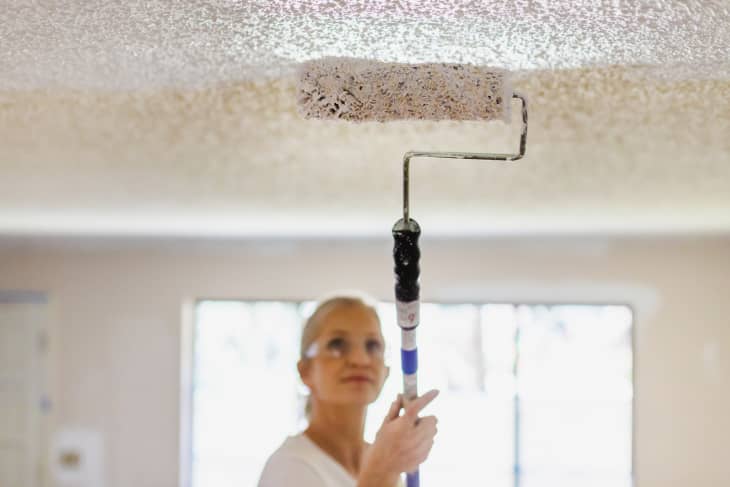 It's a buyer's worst nightmare: Walking into a home and seeing the dreaded texture of a popcorn ceiling staring down at them from above. The same goes for real estate agents. I spoke to seven of them for this story, and not a single one has had a buyer who was happy to see a popcorn ceiling. In fact, most buyers — and agents — actively despise them.
Follow Topics for more like this
Follow for more stories like this
What is a popcorn ceiling, exactly?
A popcorn ceiling is a textured ceiling made with a spray-on paint mixed with granules like sand or another material. They were popular between the 1930s and the early 1980s as a way to supposedly muffle sound, and also to cover any imperfections in the ceiling. But today, people just see them as ugly.
Popcorn ceilings can be dangerous.
Due to the time period popcorn ceilings were popular, some granules might be made with asbestos, which can be toxic. 
"Asbestos is a mineral with flexible fibers that repel heat, electricity, and corrosion, but toxic as well when the fibers are ingested or inhaled," says agent Karen Kostiw from Coldwell Banker Warburg.
As the ceilings age, they tend to shed — which means they're dropping all the dust the texture has trapped over the years and possibly some asbestos along with it.
They're a pain to remove.
Have you ever tried to remove some old wood paneling that was glued onto the walls? Trust me, this is a much worse process. First, you'll likely have to remove everything from the room. Then all the texture needs to be scraped or sanded off. Next, any imperfections need to be fixed. Then you'll need to paint, or add drywall and then paint. It's a tedious, messy, and potentially toxic job, so the best route is to hire a contractor to do it for you. But be warned: It's expensive.
But you don't have to remove them.
If you don't have the time, patience, or money to remove a popcorn ceiling, try making the best of it. You can cover it with something like a tin or wood ceiling, or "you can incorporate them into the design of the space, and even create a mid-century vibe," says agent Parisa Afkhami, also from Coldwell Banker Warburg.
If you want to sell your house, though, you might want to ditch them.
Sure, you can cover up a popcorn ceiling, though you'll need to do a possible asbestos disclosure when you sell your home. And, agents say, it's the best idea to get them removed completely before putting your home on the market. See for yourself:
"I have literally never heard a buyer or owner say they like them." —Broker Michael J. Franco with Compass
"I cannot say one positive thing about them." —Broker Hilary Rovins from Coldwell Banker Warburg
"It's been a while since I've seen popcorn ceilings, but when I do see them, I know there will be issues for the buyer because they are not attractive and are very outdated. Most buyers hate them and discuss removing them." —Broker Dorothy Schrager from Coldwell Banker Warburg
The bottom line? Popcorn ceilings may send buyers running in the other direction, so if you have the ability to remove them, it might not be a bad idea.