Why Real Estate Agents Will Always Tell You to Buy These 6 Items
We independently select these products—if you buy from one of our links, we may earn a commission. All prices were accurate at the time of publishing.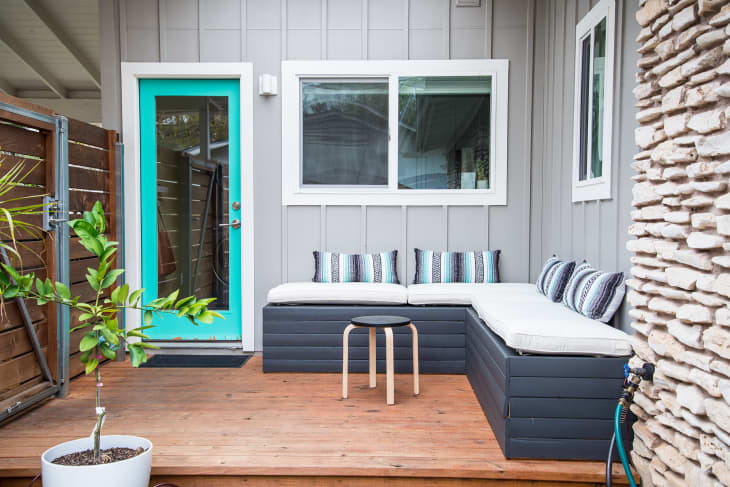 When you close on your first-ever home, you're no doubt excited — and ready to put your own spin on the place. You probably can't wait to save up for that first new piece of furniture. But not so fast: there are a few not-quite-as-sexy items that should be at the top of your list to purchase.
Follow Topics for more like this
Follow for more stories like this
These are the must-buys that will get your new house up and running — and, according to real estate agents, why they're critical to keep your home functioning smoothly and safely.
Choosing furniture, hanging art, and giving a place personality — those are the fun parts of moving into a new space, right? Lee Moretz, cofounder of Washington, D.C.-based Nhabit Real Estate, knows that her clients are always eager to get in and put their own stamp on their homes. She suggests buyers purchase a laser tape measure to help during the process of hanging, nailing, and installing art and photos. "A laser tape measure makes measuring more accurate, easier and faster than using a standard tape measure," she says. "You'll be surprised how much you end up using it!"
Homeownership will quickly teach even the most optimistic among us to expect the worst. To help ease the blow, Josie Rees, a licensed Realtor and real estate success coach with eXp Realty in San Antonio, Texas, always recommends homeowners invest in a home warranty. 
"As a Realtor, I always purchase my clients a one-year, full-coverage home warranty as part of my closing gift," Rees says. "No matter what happens in the home — an appliance stops working or there's a water leak under the sink — a quick call to their home warranty company will take care of the problem swiftly and correctly."
New Locks (Even If You're the First Owner!)
"A new door lock should be a top priority. You have the keys, but you're not the first person to call your new house home," Paul Moody, a Realtor and founder of Pro Mover Reviews, recommends. "There's always a chance that the previous homeowner or their friends have an alternative key to the door. It's better to play it safe and get the door lock changed immediately."
This also extends to owners of new-build homes. Think about how many contractors, builders, and others have been through your home.
A Smart Water Leak Detector
"This smart device can sense water leaks before they get out of hand. Whenever there's something amiss with your water heater, kitchen sink, water heater, refrigerator, toilet or plumbing, the smart water leak detector notifies you so you can take timely action," he says. "This early detection helps avoid significant damage to your building, and helps you escape major unexpected costs."
Don't forget to put safety first. Patricia Matus, a real estate agent with Century 21 Alliance Realty Group, says, "I recommend getting at least one fire extinguisher and keeping it near the kitchen so it can be accessed quickly in an emergency." Here's a pro tip: make sure you review the instructions on how to use it before you need to.
Carbon Monoxide Detectors in Every Room
While carbon monoxide detectors are only required in 27 states, most real estate agents will tell you to purchase one as soon as you move in. Carbon monoxide is referred to as the silent killer — and you'll never regret the low investment of putting a detector in. Jason Gelios, a Michigan-based Realtor, says, "I advise all my homebuyers to make sure they purchase carbon monoxide detectors for every living area the home inspector recommends."