These Are All the Different Pros You'll Need When Buying a House
We
independently
select these products—if you buy from one of our links, we may earn a commission. All prices were accurate at the time of publishing.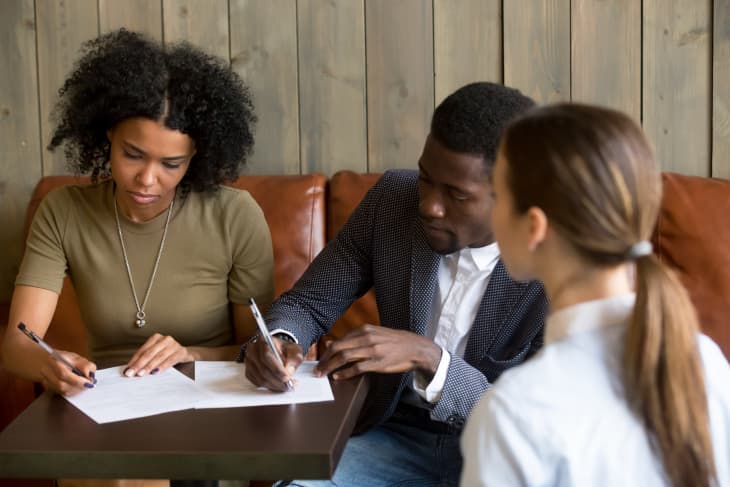 Buying a house is truly a team effort. From start to finish, there are quite a lot of people who play a crucial role in the homebuying process. Many of them help by making your life easier and ensuring everything flows smoothly. And without these individuals, you wouldn't even be able to close the deal on your dream home.
Ahead, find all of the different people you'll need to work with when buying a house.
The right real estate can make a huge difference in finding the perfect home. "An agent will help you to find the best deals, plan property showings, make offers to sellers, and negotiate the price on behalf of you," explains Brady Bridges, broker and owner of Reside Real Estate in Fort Worth, Texas.  
He says a real estate agent can help you find other experts, too, like appraisers and home inspectors. Overall, they help captain your house hunt, and usually can answer all of your homebuying questions. Many also real estate agents identify as Realtors, which means they belong to the National Association of Realtors. 
If you don't already have a mortgage company in mind, a mortgage broker can assist you in finding the right one. "Since mortgage brokers do not work for a specific lender or lending institute, they can help you to find a good lender offering the best terms and rates," Bridges says.  
Finding the right home is just part of the process. Unless you're paying cash, you'll also need someone to lend you the money to purchase it. "Your lender will help you determine how much house you can afford and assist you in securing a mortgage when you find the perfect home," says Bonnie Timms, an attorney with Cook & James, an Atlanta-area real estate closing firm. "The process of applying for a mortgage can be daunting; be prepared that your lender will likely need your recent tax returns and you may need to provide information about your income and any debt you owe," she says.  
The home's list price may or may not be in line with its value, and an appraiser can help you determine how much a property is really worth. Bridges says appraisers are important because they can ensure that you don't overpay for the home. "Your lender might also request an appraisal before completing the mortgage loan," he says.  
A home inspector is crucial for determining a home's condition. "This person can help you to find out the things that are unsafe or not totally functionable, and identify areas that need to be repaired," Bridges says. "Such information helps you to decide whether a home is good enough to buy."  For example, the inspector may discover a leaky roof, termites, or plumbing problem. (Did you know it's possible for a house to fail a home inspection?)
You'll need insurance on your new home. You may decide to keep the same company you use for your auto and renter's insurance, but if not, an insurance broker can provide assistance. "This person can help you with your homeowner's insurance as well as private mortgage insurance," Bridges says. Lenders often require private mortgage insurance when borrowers have a down payment of less than 20 percent. 
An Attorney or Title Company
When you close on your home, you may close with an attorney or a title company. Timms says it depends on your state. "Realtors and lenders will gladly recommend the closing firm or title company they have had success with in the past," she says. Timms adds she also enjoys celebrating with homeowners. "There's no greater feeling than being the final piece of the homebuying puzzle and putting the keys to a new home in the buyer's hand."