This Company Makes Fake Plants That Look Realistic (Because They're Slightly Browning)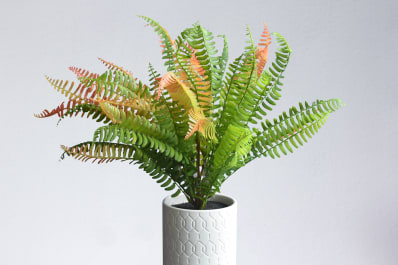 (Image credit: Slightly Browning Fake Plants)
It's hard to settle on the biggest draw of house plants. Is it the inherent sense of pride in being able to keep another living thing alive? Is it the aesthetic brownie-points of a perfectly arranged succulent sill? The perceived higher air quality? Brian Truong and brothers Kurt and Gerhardt Slawitschka (whose day jobs include tech, comedy writing, and directing respectively) aren't quite sure either, but they do know that the house plant craze presents a number of challenges for the busy millennial without much of a green thumb. That's why they've just launched a Kickstarter for Slightly Browning Fake Plants.
"We had both been trying to take care of plants for so long, but they kept dying," says Kurt. "Overwatering, underwatering, mold, too much sun, too little sun––it's just impossible."
Despite the challenges with plant mothering (or fathering), the founders agreed that plastic replacements didn't quite deliver the same aesthetic as the real deal because they looked, quite frankly, too good. "We were actually at a New Year's Eve party, and we were talking about how hard it was to keep plants alive," says Brian. "We thought, 'What if we made a company that sold slightly damaged replicas of plants?' Fake plants that didn't look stupid, that people would actually want to have in their apartments." By the end of the night, the domain name www.slightlybrowningfakeplants.com had been purchased, and the idea had the approval of almost everyone at the party.
(Image credit: Slightly Browning Fake Plants)
Although the company started as a joke, the founders have put real time and thought behind the product. Their first prototype, the 2 Week Vacation, is a plastic replica of a plant as it would look after being abandoned for a two-week period–slightly brown, droopy, and a little on the dead side, but not quite at the end of its rope. There are also a number of concept plants already on the site, like the "Suck-ulent", ideated by Gerhardt, and the "First Apartment", which bears the description "Your broker convinced you that "garden level" is not a basement. But you just had to have it, didn't you? Well done—very aesthetic".
The founders went through over one-hundred manufacturers before they found someone who was able to deliver the kinds of color and damage modifications they were looking for; the accessories, like a stack of dollar bills for The Banker plant will be added later on. If the Kickstarter is able to raise $10,000, the 2 Week Vacation will be the first plant to go into production, available for purchase for $40.
(Image credit: Slightly Browning Fake Plants)
Slightly Browning Fake Plants is targeted at a millennial audience that is working too hard to water its plants, or that might not have apartments with adequate sunlight, but there's also a strong self-realization component to the business.
"Part of our product is selling the idea and the identity of someone who can't take care of plants," says Kurt. To that end, SBFP is also making dead plant-themed hats that say "Plant Killer", sweaters, and tote bags to fund its Kickstarter. The founders want people to know it's okay that they can't keep their plants alive, and that Slightly Browning Fake Plants are a way to hide a little while also embracing that reality. As Brian Truong puts it: "Let's be honest. We [millennials] can barely take care of ourselves...much less another living thing."