8 of Reddit's Favorite IKEA Hacks of 2020
We
independently
select these products—if you buy from one of our links, we may earn a commission. All prices were accurate at the time of publishing.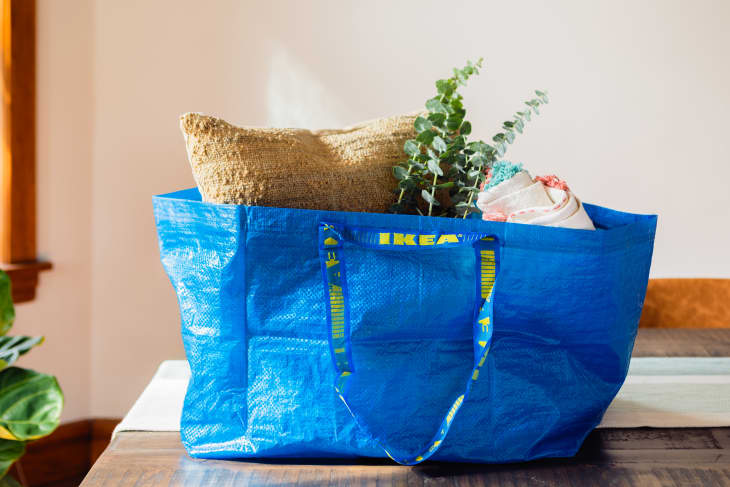 There are a ton of different places to find recommendations about the best IKEA hacks of 2020, and Reddit can't be overlooked. It takes a very special post to rise through the ranks of the front page of the internet, so when Reddit endorses a hack, you know it's a good one.
True to form, Redditors across the globe scoped out some excellent tips and tricks this year, and shared them with a series of very informative subreddits. From a hidden-away waste collection system to a customized set of drawers, here are Reddit's buzziest, most upvoted IKEA hacks from the past year.
Personalized BILLY bookcase conversions
The BILLY bookcase has become one of the most popular pieces in the IKEA catalogue, easily identifiable from just a quick glance. So when DIYers are able to transform it so completely that it resembles a completely different (and much more expensive) item, it becomes all the more impressive. Two such conversions found their way to the top of the Reddit heap in 2020—Redditor nnevala created a unique looking built-in unit complete with LED lightning and laser-cut crown molding, while gustafh combined four BILLY units, also added ambient lighting, and opted for a slate blue paint color.
KALLAX cat-feeding station
This ingenious cat habitat from Nemo1ner is the epitome of killing two birds with one stone. Not only does it keep all the cat's various accoutrements organized in an aesthetically pleasing way, but the little station is also designed to keep the household's curious puppy from getting into the cat food. The hole cut into the entryway basket is cut small enough to keep the kibble out of reach, while still visible and accessible through the KALLAX glass door when it comes time for bowl refills.
Hidden waste bins on a pulley system
While many of the entries on r/ikeahacks are intended for display, the subreddit's most popular post of 2020 is a cleverly devised waste bucket system designed to be tucked away out of sight. User MontagoDK attached two lidded IKEA waste bins to the inner door of a low cabinet, then rigged them onto a simple pulley system that automatically raises their lids when the cabinet is opened—a hands-free hack that users lauded as genius.
HEMNES shoe cabinets with stained wood top for a narrow entryway
In their narrow entryway, Redditor Riri_Maruchan reimagined two HEMNES shoe cabinets into a multipurpose catch-all for miscellaneous items—none of which is a pair of shoes. The process required removing a center leg and drilling mirror holes to connect the units, then topping with a stained wood top. The result holds items like to-go snacks, mail, and dog-walking accessories while remaining snug to the wall and out of the way.
If you have a KALLAX or two sitting around your home, you're in luck, because the unit was one of the most-hacked IKEA products on Reddit this year, cropping up multiple times in the top posts. This time around, the shelving unit shows up as a cozy little coffee bar from Redditor Huweii, who added wooden feet and an oiled wood slab on top, then various KALLAX shelving and door inserts to complete the look.
KALLAX with engraved doors
In addition to being a DIYer, Redditor Black-Lining is clearly an artist as well. They used a Stepcraft 840 CNC Machine to etch intricate designs on the multicolored doors of a KALLAX unit, prompting multiple users to post variations on "take my money."
FJÄLLBO Hacked Bar with Lights
Redditor Braikenb started out with two FJÄLLBO shelf units, which they've steadily been transforming into a funky, industrial-themed home bar. (With multiple updates like this one along the way.) Crucial to the transformation? IKEA wire racks, which have been hung on the underside of each shelf for hanging storage, and bright blue LED strip lighting to set the mood.
Two BESTA TV cabinets that became an open-air wardrobe
Struggling with a lack of space in their wardrobe, user siebenkommaacht came up with an intelligent solution that commenters are swooning over and screenshotting left and right. Instead of relying on a too-small closet, the Redditor used two BESTA TV units with doors—one and the top and one with added legs at the bottom—to frame out an open-air wardrobe that's all clean lines and utility.