7 of Reddit's Favorite IKEA Hacks of 2021, Featuring BILLY, HEMNES, and Other Favorites
We
independently
select these products—if you buy from one of our links, we may earn a commission. All prices were accurate at the time of publishing.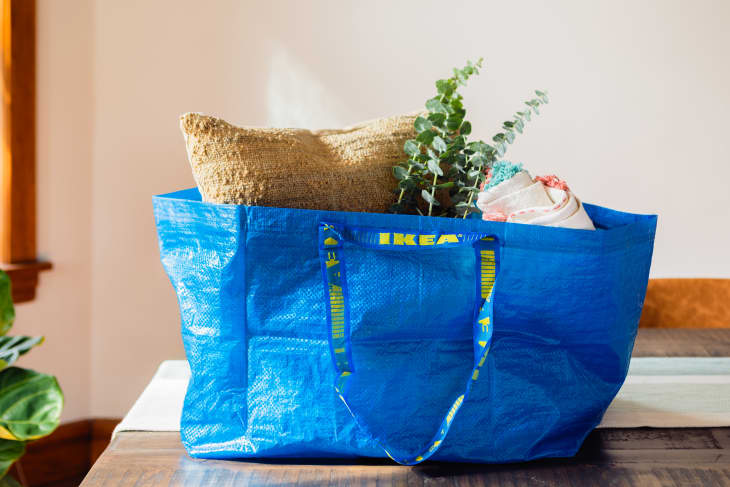 IKEA hacks are a favorite at Apartment Therapy — and on Reddit, too, where there's an entire subreddit dedicated to the clever and unconventional ways that enterprising DIYers think to use IKEA products. A quick scroll through will have you wondering, "How on earth did you think to put cabinet doors on the wall? A bed tray as a window mounted desk?" Seriously, the creativity is endless.
But of the hundreds of IKEA hacks shared to r/IKEAhacks annually, a few rise to the top as favorites in the subreddit. These are seven that received some of the most upvotes in 2021, catching the eyes of Redditors and inspired DIYers across the globe. If you're ready to plan a weekend trip to IKEA in the new year, start scrolling and take notes.
Floor-to-Ceiling Billy Bookcase Library Shelves
BILLY bookcase hacks are a perennial Reddit (and Apartment Therapy) favorite. These bookcases are such a cult classic that they even sold out temporarily on IKEA's website and across their stores this summer. But savvy Redditors were able to get their hands on them and turn these blank canvas bookcases into incredible masterpieces. Perhaps the most popular iteration was this living room to library transformation by u/atari_guy, which took a record number of BILLYs and stacked them for an impressive built in situation.
An Elevated HEMNES Dresser
With a solid wood construction and a sleek silhouette, the HEMNES is a prime candidate for a makeover in just about any style. Reddit user u/PompousClock went for a stylish blue chalky paint makeover with a textured finish that makes the whole piece look handmade. As for hardware, they went with modern finger pulls in trendy gold to create a piece that's totally stylish.
A Storage-Rich Custom Office
If you're working from home these days, let this hack from Reddit user u/Arkade_Blues inspire you to give your setup a hard second look. This super functional office setup is made from a combination of EKET and ALEX pieces, and features enough work space and storage space for two — with room to spare.
No surprise that among the top-voted posts of the year, there's more than one BILLY makeover. Here, Reddit user u/nesanfidde took a different approach to their BILLY bookcase project. Instead of leaning into the bookcase function, they created a built-in bar cabinet unit, complete with ornate crown molding, a stunning slate blue color, glass doors, and under cabinet lighting. It's a sophisticated look that's a far cry from the BILLY's original form.
Built-Ins with a Mix of Shelves and Drawers
BILLY bookcases are a classic choice for built-ins, but this hack from Reddit user u/dtspmuggle proves that HEMNES can hold its own, too. A mix of HEMNES drawers and shelves create a functional setup that's attractive, too, thanks to fluted moulding that was cleverly used to conceal seams between each piece.
A Wall-Mount Dresser Made from a Bathroom Vanity
This wall-mounted dresser — made by Reddit user u/downroar using two GODMORGON bathroom vanities placed together — is a smart choice for small spaces. Not only does it give the illusion of more square footage, thanks to the floating illusion, but it also makes cleaning the floor beneath a breeze.
Reddit user u/whydid_i_eatsomuch found a HEMNES cabinet in the as-is section at IKEA and saw a different use for it. Turned on its side and topped with a cushion, the HEMNES is the perfect height for a footboard bench that gives the user's dogs a boost up onto the bed.