A Neglected Ranch-Style House Is Now Deco-Inspired Boho Luxe
We independently select these products—if you buy from one of our links, we may earn a commission. All prices were accurate at the time of publishing.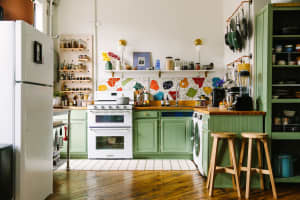 Can't-Miss House Tours Straight to Your Inbox
Keep up with our latest house tours each weekday with our House Tour of the Day newsletter
Name: Brit Arnesen, my husband Derek, daughter Sadie, son Theo, dog Lucy, and cat Sheena.
Location: Kokomo, Indiana
Size: 1,300 square feet
Years lived in: 3 years, owned
I'm a self-taught interior designer and avid DIYer who's really into home decor. One room at a time, my husband, who's a machinist, and I have turned a neglected ranch-style house into our family's dream home, documenting the process along the way. I was a model, world traveler, graduate scholar, and elementary school teacher in my past lives. Now I'm a stay-at-home mama (to my two little ones) who blogs and does influencer marketing on the side. My daughter will be five in a few months and my son just turned two. We have a 12-year-old pit bull named Lucy, a cat named Sheena, and a 9-week-old Boston Terrier pup named Ferdinand.
I had a friend who lived in our current neighborhood when I was little. I remember riding my bike past what would be my future home and thinking it was the ugliest house I'd ever seen. I was probably about 8 years old. Fast forward almost 30 years and my husband and I bought the very same house as a foreclosure about four years ago! It still vied for the ugliest, even after all that time.
When we bought this house, we had every intention of fixing it up quickly and cheaply, and then selling it for a profit. That didn't go quite as planned. The more we worked on it, the more we realized that we didn't want to have to work on another house for a very long time. So we decided to stay and really make it our own. For me, it would be difficult to leave behind something I'd designed and personalized so much only to buy some cookie cutter house with whatever profit we made. We've decided that we'll only ever move if it's to build a new house with a lot of land somewhere. So we'll see if that ever happens!
Our house was severely neglected by the time we happened upon it. It was built in 1962 and we were told that the former owner had always done the bare minimum when it came to repairs and whatnot. Apparently, it had sat empty for the better part of five years prior to when we bought it as well. It needed A LOT of work.
The fireplace, which we removed, and bathtub were both falling through the subfloor. There was also water damage to the subfloor around all of the baseboard heaters. So my husband replaced a lot of it. He also removed the old heating system and we had central air and forced heat installed. We took out all of the non-load-bearing walls in the main living space to make it one large room as opposed to four tiny closed off rooms. We gutted the kitchen and bathrooms; and we converted the connected laundry and half bath to a full-sized master bathroom. We replaced all the windows, doors, cabinets, and overhead lights. We even replaced the toilets! My husband built a new laundry and furnace room in the garage as well, which will eventually be part of the house when we convert the garage to living space.
Literally everything has been replaced and we've done all of the work ourselves over the past four years or so. It's been a ton of nonstop work, but so worth it. The summer before last we redesigned the front porch and awning, including the sidewalk and landscaping. We had a contractor come and break up the old cracked cement porch and walkway and pour new. That's the one thing we hired out aside from the heating and cooling system. All we have left to do now is finish the siding on the outside, but it's gotten too cold so we haven't been working on it much!