Would You Ever "Rent Blindly?" I Have—4 Times!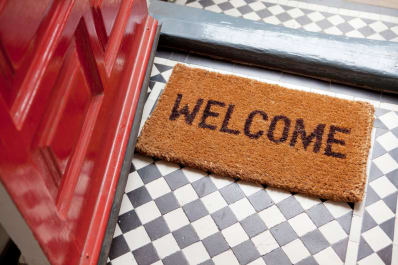 (Image credit: Image Source/Getty Images)
In the past seven years, my family and I have been through seven moves. That may seem like a lot, but as a former military spouse and sailor, I can tell you it's normal for families like mine. You don't just move—you move quickly: You only get 10 days after you transfer to a new duty station to find a house and move into it. Yeesh!
Most of the time, families spend those first days in a hotel (which, thankfully, the military pays for), but I was rarely interested in this option. For me, finding a home before I moved has always been my number one priority. So I always tried to sign a lease before I even arrived. Yes, I've "rented blind." Four times, in fact.
I promise it's not as scary as it sounds. Yes, it is can be stressful at times, but I've found it's been a huge advantage (and completely worth it) to have a permanent address when I arrived to my new city.
As any realtor might tell you, this isn't recommended, but, in certain situations, it's the best option. While you might not be in the military, you could be relocating for a new job or starting school and need to secure a place to live before you get there. I can say with confidence that if you stay focused and optimistic, you'll always end up right where you need to be.
Here are some of the best tips that have helped me successfully "rent blind":
Get Referrals
I think one of the best perks about being affiliated with the military is the instant connection you have with people all over the world. When I moved to Virginia, knowing military families made it easier to connect with a stellar realtor who was attuned to my family's unique needs. Also, talking to families who had been through it before also were a terrific source in knowing which neighborhoods would best fit my family's needs.
But you don't need to be part of the military to successfully network—there are now a wealth of online housing communities (like local Facebook groups or even Nextdoor) you can join with just a click. I joined these groups and felt like I had a better understanding of the community I was moving to—it also helped me make some friends, even before I moved.
Read Reviews
It's hard to get a full picture of a house when you can't turn up the corners of the carpet or knock on the walls. But, thankfully, sites like Apartment Ratings and even Google make it so much easier.
Reading reviews helped me avoid a community that looked great but also had a huge cockroach infestation and another that allowed trash to pile up in common areas for long periods of time. For each of my moves, I've read reviews for anything and everything that would have an impact on my family: neighborhoods, schools, parks, activities, restaurants, stores. I even take a look at crime maps and sex-offender registries (which I take with a grain of salt because crime can happen in any neighborhood), just so there aren't any surprises.
I've also found social media and local news outlets help you get a pulse on the goings-on of an area. I've found many free fitness events and family-friendly festivals that my family and I have enjoyed this way.
Find a friend
Some people I know were lucky and could take time off for a visit to look at properties. But I was not one of these people. Instead, I had a friend who lived relatively close by check out the places I was extremely interested in (thank you, Jen!) This ended up being a smart move on my part, because not only can properties not be as great as they seem in the photos, but some properties can have new updates that aren't pictured.
In the cases where you can't find a friend to walk-through, make friends with your realtor—they'll usually Skype or FaceTime you in to do a virtual walk-through.
Use Google Maps
Google Maps isn't just for directions. No sir. I've used and loved their street view feature to get a better idea of what a neighborhood looks like. Now, while the Google car only rolls through every so often (if at all, which is the case in more rural areas where there are no pictures), it still gives good pictures of not only what the outside of the house you're looking at looks like, but what your neighbors' yards look like, too. When I was moving to Virginia, I was pleasantly surprised to found that the owners of the house I was moving to recently updated the fence as well as some other exterior features—but I wouldn't have known unless I had Googled it and asked. Google Maps also allowed me to find out that there were two different playgrounds in walking distance, which was a nice surprise for my children!