Before and After: A Dreary Rental Bathroom Gets A Fresh Makeover for Just $60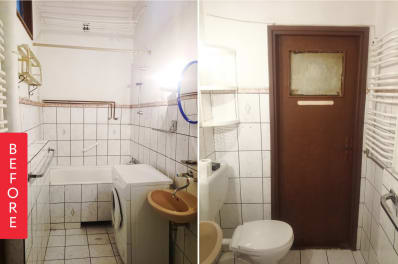 (Image credit: Justyna Janiuk)
Perhaps the next best thing to your landlord offering to fix up your rental bathroom (which rarely happens), is your landlord granting their blessing for you to fix it up yourself. Justyna was thrilled to get the green light from her landlord to make some bathroom improvements and she got straight to work. See what she accomplished on a small budget in this small rental:
(Image credit: Justyna Janiuk)
From Justyna: This summer I decided I couldn't live with my rental bathroom any longer. I spoke to my landlord and we agreed that I could do a little renovation. Yes yes yes! I started with cleaning up the walls and ceiling, which were covered in mold. Then I painted it all white. I also freshened up the pipes that go throughout the bathroom (cannot get rid of them, unfortunately).
I decided on white and black with a bit of copper. I painted the grandma-like tiles black with spray paint which made huge difference. I also painted the door black, and made it a big chalkboard. Then I grabbed copper spray and painted the pipes, shower curtain rod and some cans, that are my bathroom containers.
I added two white shelves (one was already there, the second is made from a wooden crate), some baskets, textiles, small frames, a bit of greenery and striped shower curtain I found in thrift shop. And it was all set!
Total price of this makeover was 250zł, which is around 60$ (!), including paints, new lighting and all accessories.
Thank you Justyna! Readers, visit Justyna at her blog, Juz Ja Was Urzadze.