3 Retro Trends Real Estate Agents Love to See in Bedrooms 
We
independently
select these products—if you buy from one of our links, we may earn a commission. All prices were accurate at the time of publishing.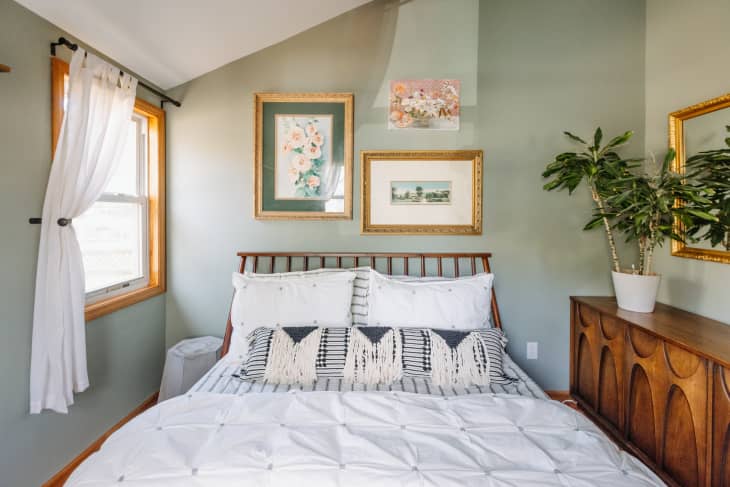 If you're drawn to rattan chairs, secretary desks, or fluted glass shower enclosures reminiscent of the glitzy Art Deco era, you may have noticed that your design preferences favor another time period. And what better place than your bedroom to stage a retro revival? It's arguably the most personable of spaces in your home, and you can have fun with prints and patterns while pulling in flea market finds to accentuate your bedside table.
"I think because of Instagram DIYers and Facebook Marketplace, we are seeing people find interesting ways to restore modernity and repurpose furniture that fell out of fashion," says Jessica Lane, a licensed Realtor in the Greenwich, Connecticut area. 
Ahead, here are three modernized retro bedroom trends that real estate agents are seeing (and loving) in homes. 
Color Palettes from the 1990s and 2000s
The '90s gave us a noisy color palette with saturated jewel tones and rainbow colors (just look at the Lisa Frank folders and the set of "Saved by the Bell" for a refresher). Then for a palate cleanser, Tuscan influences came along in the 2000s and beige started to dominate, with a supporting cast of rustic golds, sage greens, and earthy reds.
Both color palettes have staged a comeback, but, this time around, they're much more subtle, Lane points out.
She's seeing some people embrace muted color palettes and beiges in the bedroom, but in a way that's softer and warmer this time around. She's also seeing others opt for bright and playful upholstery or color-coordinated books incorporated into shelving — a detour from the fully-saturated, mix-and-match types of '90s colors, she says.
Wallpaper has played many roles over the decades. In the 1960s, bold prints wrapped entire bedrooms. Then, in the 1980s, wallpaper borders had a moment, where foot-wide strips encircled the uppermost section of a wall. Wallpaper is back again, says Jennifer Baptista, a licensed Realtor in Massachusetts, but this time it strikes some middle ground appearing in moderation on accent walls. 
If you want to incorporate this trend, wallpaper an alcove or nook in your bedroom, she says. If you're hesitant to full-on commit to a particular pattern (or you're renting and want your security deposit back), opt for a peel-and-stick wallpaper.
Baptista is fond of the playful wallpaper patterns available at Wall Shoppe, and, for something more custom, you could create your own pattern using a website like Spoonflower.
Mid-Century Modern Furnishings 
There's much to love about mid-century modern design, an organic style that's all about form and function. It's brought us iconic pieces like tulip chairs and pedestal tables, Arco floor lamps and Eames lounge chairs. 
Baptista says she's seeing clients infuse mid-century modern furniture into their modern homes, a trend that you can execute in the bedroom with an upholstered and wooden headboard, a velvet-covered chair, a rattan side table, and other flea market finds. You can make mid-century work with a muted color palette or some cheerful pops of color. The key is to look for furniture with an organic feel and geometric shapes, she says.
February is Bedroom Month on Apartment Therapy! We're sharing stories all month about bedrooms — from how to sleep in them, decorate them, make the most of small ones, and so much more. Head over here to see them all!