The Last Thing You Should Always Do After Unpacking Groceries
We independently select these products—if you buy from one of our links, we may earn a commission. All prices were accurate at the time of publishing.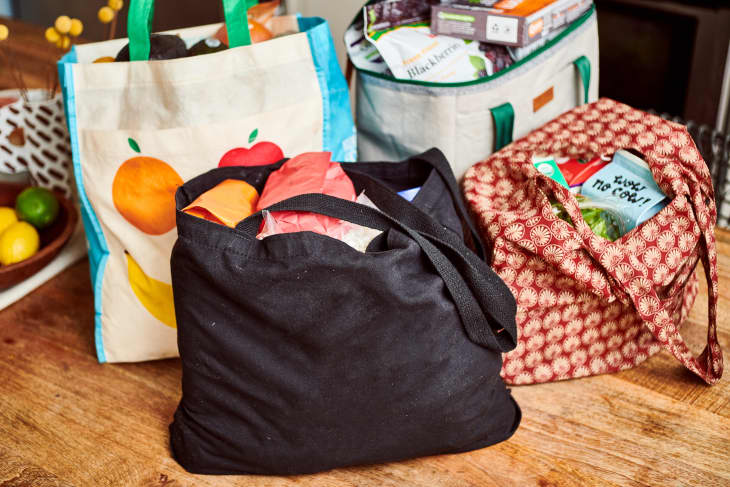 Grocery shopping is a little like a marathon. There are more than a few steps in the planning, process, and recovery. Yes, I said recovery. 
After you've shopped your kitchen, made a meal plan, prepped the list, loaded the cart, paid the bill, checked the receipt, returned the shopping cart, and headed home, you may think putting it all away is the last of your tasks. But, wait. There's one more thing to do: Set up your grocery bags to take on the next trip.
Why You Should Immediately Set Up Your Bags for the Next Trip
Using reusable grocery bags is no longer just a hip thing to do; it is essential, especially when you live in a state like mine that charges you for every bag.
You know you will need bags next time you go grocery shopping.
You don't want them cluttering up your kitchen. Send them to the car or set them by the door ready to head out on your next trip.
You'll save money. Who wants to pay 5 or 10 cents/bag when you already have a ton of bags at home? Every nickel and dime matters these days.
You'll reduce pollution. Reusing bags is a great way to reduce your carbon footprint, so make it easier to do it.
Don't get stuck bagless. Instead, plan ahead. 
If You're Using Reusable Grocery Bags, a Few Tips
Keep the bags you love. There are a lot of different types and styles of reusable grocery bags to choose from. Make sure that you have bags that you enjoy using, are comfortable to carry, and easy to clean. The easier it is to use something, the more likely you will do it. Read: if you love your bags, you'll use them more often and save more money!
Make sure your bags are clean. Bacteria can breed in bags, especially in a hot car, so make sure that your bags are clean. Follow these steps to sanitize your reusable shopping bags. Having a few extras comes in handy in case some get caught up in the wash. Rotate as needed, but make sure you've got some ready to go to the store.
Collapse and collate. You don't want a jumbled mess of bags cluttering your car or entryway. Be sure to neatly collapse or fold them and collate your grocery bags in some way. Again, make it easy to carry and you'll do it more often.
Got your bags ready? Time to sit down and relax. Your work here is done.