These Best-Selling Flameless Candlesticks Are Better Than Real Ones, and I'm Using Them Everywhere This Holiday Season
We independently select these products—if you buy from one of our links, we may earn a commission. All prices were accurate at the time of publishing.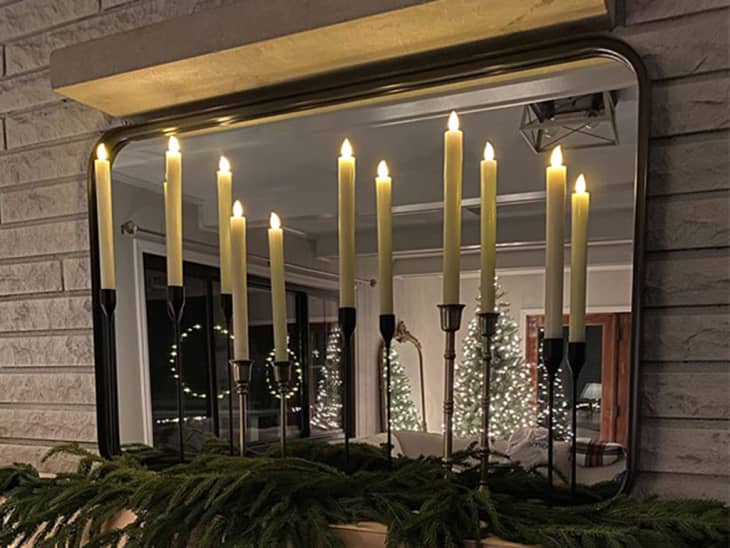 If there's one thing I love about the holidays, it's decorating. Growing up, my mom was a decorator extraordinaire. From a gorgeous Christmas tree filled with ribbon, baubles, and every homemade ornament to a front window lined with statuettes and twinkle lights, my home was filled with Christmas spirit immediately following Thanksgiving. So when my first Christmas on my own came around, I was filled with a mix of excitement and nerves — excited to pick up my own decor but nervous as I knew I had a lot to live up to.
Because I live in a studio apartment, my space is precious, so I knew my Christmas display needed some real thought. My idea was simple: I wanted a display that mixed both classic and traditional elements, and one thing I knew was a must was candlesticks. Originally, I was going to pick up some regular candlesticks and forego the thought of lighting them (my display has to be way too close to a window shade for that) — that is until I discovered the Rhytsing Flameless Taper Candlesticks aka the flameless candlesticks of my dreams.
While scrolling through Amazon for some traditional candlesticks, these appeared on my page and instantly made me stop and gasp. Available in a host of colors and designs, it felt like a revelation when I realized, "Oh, these are the perfect solution for safely lighting a candlestick anywhere in my home." The set comes with five candles as well as a remote equipped with eight functions including an on/off switch, a timer, a dimmer, and a glow setting that makes these candles glimmer like the real thing.
While unboxing them I was immediately smitten with how stunning these candles look in person (truly, the picture doesn't do them justice). They're tall, solid, and feature a drip design around the "flame" that adds an extra real touch to their look. And they're super easy to use: Simply insert two AAA batteries into the base of each candle (I was tickled pink to see this set actually comes with the batteries!), push the flame to turn it on, and bask in their glow.
And you can snag a set of the Rhytsing Flameless Taper Candlesticks for $30. So whether you're looking for the perfect addition to your holiday display or simply want a safe (and beautiful) alternative to regular candlesticks, give these a try — they'll be lighting up your night in no time.