6 Things That "Never Have I Ever" Star Richa Moorjani Keeps On Her Nightstand — And Two She Definitely Doesn't
We
independently
select these products—if you buy from one of our links, we may earn a commission. All prices were accurate at the time of publishing.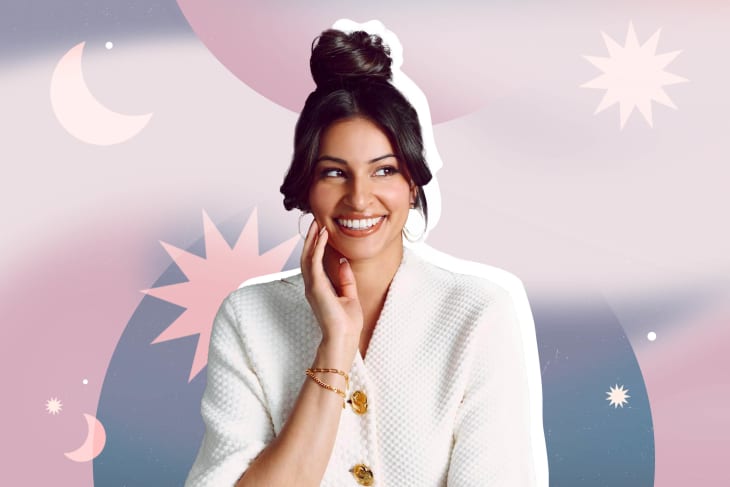 Our nightstand setup says a lot about how we like to end the day and start another. What's On My Nightstand asks celebrities, entrepreneurs, and beyond what essentials they like to keep within arm's reach. 
Though Richa Moorjani, who stars as Kamala in Netflix's "Never Have I Ever," recently upgraded to new nightstands, her previous pair was about 20 years old, and from when she lived with her parents. Moorjani recently walked Apartment Therapy through what she keeps on — and in — her brand new bedside table. She even mused as to what her character Kamala would stash beside her own bed.
A houseplant (whether dead or alive): "There's always a plant on my nightstand, and I'm very bad at keeping plants alive, so these plants are changing constantly. I think it's the way my room is positioned, the light is either too strong or it's not enough, so the plant just never survives, no matter how much I water them. I do think that plants are so important to have in your room or in your house, it feels so positive and I love the energy they emit."

A statue of Lord Ganesh: "One thing that I always have on my nightstand is a little statue of a deity of Lord Ganesh, who's the elephant god in Hinduism. He's also worshipped by Buddhists and Jains. It's something I've had different versions of throughout my life on every nightstand I've ever had. It's pretty common in Hindu households to have a statue of Ganesh, not just in your bedroom but throughout the house or in your office because he's seen as the god of removing obstacles and the god of new beginnings. He's also a patron of arts and sciences so there are so many things he symbolizes, and I feel great energy having it right next to me when I go to bed and when I wake up, just having that so I can focus my own energy on those things."
Lavender body mist: "I got this at Whole Foods, it's an aromatherapy room and body mist, and the scent is relaxing lavender, and I spray it on my pillow and all in my room before I go to bed. It's really relaxing and I love lavender, anything with lavender in it."

Multiple books: "I always have a book or two or three on my nightstand because I'm kind of a book hog, I see a book that looks really interesting and I'll order or buy it and it will just sit on my table until I get through it. It takes me forever to finish books, if I ever finish them at all, but they're always on my nightstand. One is a book I read throughout my life, 'The Power Of Now.' I love it and it's almost always in the drawer of my nightstand or on it, just for me to look at a page when I need some wisdom. The other one I have is called 'Well-Behaved Indian Women,' and it's a fictional novel by a South Asian author that I really like."
Hand cream: "I will always a hand cream on my nightstand. This one I have now is by Whish, it's vegan and has a rice milk and rose scent. I like to have scents before I go to bed, my lavender spray and my hand cream."

Work scripts: "If I have an audition the next day or if I'm shooting the next day, I will have my scripts with me before I go to bed so it's fresh in my mind when I wake up."

Things to avoid putting on the nightstand: "No food in my room ever. I never understood those movies where the actor wakes up and brings coffee and food in bed, it grosses me out. Also, I try to avoid putting my phone next to my head. Even if it's on the floor or on the dresser, that way when my alarm goes off in the morning, I have to get out of bed to turn it off. I have a hard rule of no screens at least 30 minutes before I go to bed, and even in the morning, I put my phone on airplane or do not disturb the first two hours I'm awake while I finish my morning rituals, meditation, and exercise."

What Kamala from "Never Have I Ever" would have on her nightstand: "A picture of her family because she's moved across the world. She lives with her American family, but her parents and sisters are back in India and I can only imagine she misses them a lot, so I'm sure she would have a framed picture of her parents or her whole family on her nightstand."

Thanks for chatting with us, Richa!