The 8 Best Regional Terms for the Strip Between the Road and Sidewalk, Ranked
We
independently
select these products—if you buy from one of our links, we may earn a commission. All prices were accurate at the time of publishing.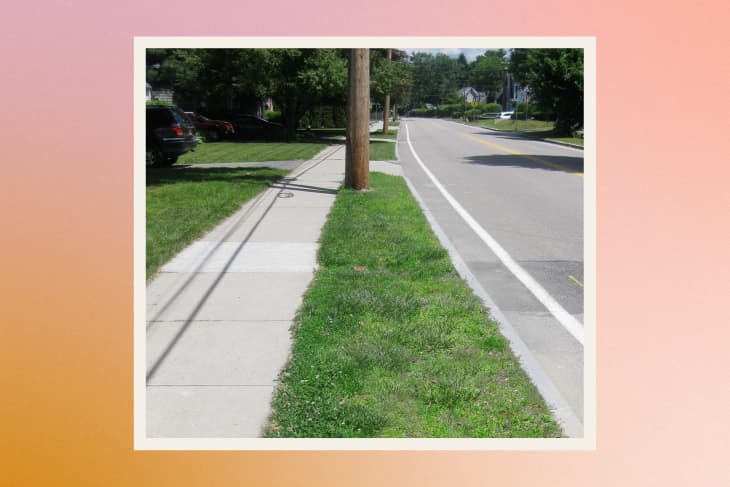 Jumble sale; sneakerhead" caught on and not "gym shoe head" (sorry, fellow Midwesterners). In my own house growing up, my mom put in work to get the word "study" to stick instead of "office" or "computer room." 
You might be asking, "Sarah, what set you off on this examination of regional colloquialisms?" Thanks for asking, readers! There are some things that I simply don't know the word for. The spot behind your knee? The thing that separates your groceries from the ones in front of yours on the conveyor belt? And specifically: that space between the street and the sidewalk. 
Apparently there's a laundry list of unexpected terms for this ordinary space that's technically referred to as a "road verge." Y'all, this term isn't going to work for me, given the delicious and often ridiculous alternatives that exist! Below, I've ranked my 8 favorite road verge terms. See if you spot any terms you use, or a new one to add to your lexicon.
Apparently, some civil engineers refer to the road verge as a "furniture zone" because it's the location where different components of utilities are installed (think of street furniture like street lamps and electric boxes). For me, this sounds more like a discount furniture store where for $400 you can snag a brand new loveseat that someone just didn't want with their set.
This seems made up, point blank. Can you picture the nation's first urban planners sitting around an ornate office, probably with cigars aflame, saying, "Hey, what if we popped a little space between the street and sidewalk, like a little, ya know, buffer? Can't have m'lady's skirt getting splashed by a horse!" 
It's no secret that I love New Orleans, and the story behind its Neutral Ground street medians is a rich piece of American history. I imagine that folks within the region just started applying that phrase to other stretches of public space that resembled these specific medians. Hey, when I'm in NOLA, I'll do as the New Orleanians do! 
Technically a silly phrase, but ultimately, kind of a good idea? Can you get samples of yards like you do for tile or carpet or paint? I'd love to test out a yard with a fire pit or one with a pool! Anything's better than the "yard sample" I've got outside my Chicago condo right now — piled high with snow and dotted with abandoned dog poop. New sample, please!
Technically, throughout most of the United States, the road verge is public land — as in "owned by Uncle Sam." This term conjures within me the stubborn desire to complain. "No, I'm not wasting my time mowing the lawn over on the GOVERNMENT GRASS!" Or, "Hmm, the government has time to audit me but not to tend to THE GOVERNMENT GRASS?" Or "Officer, do you mean to tell me I can't annex this land as an extension of my own lawn because it's the GOVERNMENT'S GRASS?" Uncle Sam, come get your lawn, my dude!
This sounds like the name of the next big waxing craze for your downtown. My imagination is running wild. Next!
Hilarious, perfect, stunning, iconic. I live and die for the portmanteau. This is exactly what the area beside the sidewalk is: the besidewalk. And if it weren't for my number one term, this would be the name I adopt for my use of road verge. But alas, I bring you to the number one best term…
This term echoes back to Government Grass, but is far more sinister, spooky, and satisfying. I can't wait to be a terrifying old lady yelling at kids to stay off my lawn, but adding, "AND the devil strip!" This will secure my position as the most frightening neighbor in my community, which is all I want in this world.