4 Roofing Styles Real Estate Agents Love Seeing (And 2 to Steer Clear of)
We independently select these products—if you buy from one of our links, we may earn a commission. All prices were accurate at the time of publishing.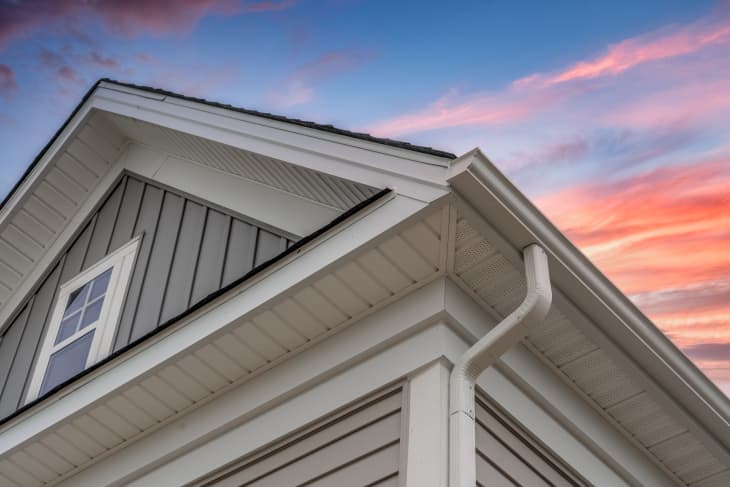 While you're shopping for a home, it's fun to imagine how you'd swap out paint colors and update cabinets. But I'm willing to bet that your renovation dreams don't involve replacing the roof, a project that can easily run you north of $10,000, depending on a home's size and location.
Follow Topics for more like this
Follow for more stories like this
Ideally, the place you're bidding on has you covered with a roof that's not just aesthetically pleasing but also stands up well to the region's weather. For this reason, it's smart to ask questions early on about a home's roof, such as its materials, style, and when it was last replaced. Later on, a home inspection will help pinpoint potential problems that need to be addressed, like missing shingles or suspected leaks. 
To help equip buyers with some roofing 101 knowledge that will come in handy on the open house circuit, real estate agents shared some of their strongly held roof opinions. 
It turns out realtors do play favorites, because some styles and materials are known to pose problems. Take T-Lock shingles, for example, which have been discontinued as better wind-resistant roofing materials have come onto the market. If you were to purchase a home with these types of shingles, repairs wouldn't be an option; you'd have to replace the roof altogether. On top of that, T-Lock shingle roofs are tough to insure, says Charissa Turnbull, a Colorado Springs, Colorado-based real estate agent with Ankeney Real Estate. Meanwhile, cedar shake roofs are fire hazards, Turnbull says.
With that disclaimer out of the way, here are the four roof styles that real estate agents actually love seeing.
If I were to give you a pencil and piece of paper and told you to draw a house, you'd probably top it with a triangular, or gable-style, roof. Gable roofs are among the most common roofs, with two sloping sides that meet together at a ridge, creating an "A" shape. Not only do gable roofs look nice on a home, but they're also affordable and easy to maintain, says Turnbull.
A hip roof is a close relative to the gable roof. Instead of a flat face and the two sloped sides that characterize a gable roof, a hip roof has four sloping sides. The hip roof design helps it perform better in windy weather, Turnbull says.
Both gable and hip roofs, because of their angular build, can handle heavy snow better than a flat roof, she explains. You should factor in your location and climate when choosing a roof style, Turnbull says.
Defined dormers are windows set on on a sloping roof. They have their own little roofs, which may be gabled, hipped, flat, or with a singular slope.
Dormer roofs — along with cross-gable roofs, which have two or more gable rooflines that intersect at an angle — give depth to a home without being two overpowering, says April Howell Young, an Oakland-based real estate agent with Red Oak Realty. Plus, these types of roofs tend not to gather leaves, and snow is more likely to slide off this style than flatter roofs, she says.
Tyler Forte, the founder and CEO of Nashville-based real estate brokerage Felix Homes, is also a fan of dormer roofs because they allow for more sunlight to enter rooms. Dormer roofs typically have a window that extends beyond the pitch roof, so bedrooms on the second or third floor have a full-size window, which is a great perk, Forte says.
Aside from roofing styles, what roofing materials do realtors love seeing? 
Slate roofing has an incredibly long lifespan and can increase the resale value of a home, says Gretchen "Gigi" Welsh, a realtor with Keller Williams Realty in Palos Verdes, California. Not only are these types of roofs beautiful, but they're not penetrable by water, she says, so they are at less risk of developing mold problems. The upfront cost of a slate roof is higher than that of a shingle roof, but the long-term savings are worth it, Welsh says. 
"A soft slate roof can last up to 100 years and hard slate roofs can exceed 150 to 200 years," she says. "Imagine not having to replace your roof over the entire ownership of your home!" By comparison, shingle and shake-style roofs typically last for 25 to 30 years, she points out.