Sabrina's Solo Sunny Small Space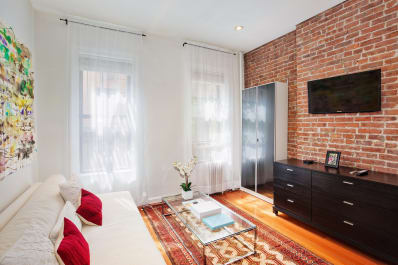 (Image credit: Submitted by Sabrina)
Name: Sabrina
Location: Chelsea, NYC
After 4 years of living in a dorm and renting light deprived apartments sharing with roommates, I finally am living in my very first home in NYC. I was blessed to find a cozy 450 square feet first floor walk-up studio in a prewar building in Chelsea.
(Image credit: Submitted by Sabrina)
I love the 9 foot ceilings, exposed brick wall and natural sunlight from two large windows. I fell in love with the space as soon as I walked in, it felt like home. Three other major pluses with the studio -beautiful hardwood floors, a walk-in closet and separate kitchen from the living/bedroom.
(Image credit: Submitted by Sabrina)
However, the studio had a loft with a built-in desk that took up a lot of space in the living room. Since I am afraid of heights and no longer 12, I had it removed (quite a feat as it was solidly built) and placed my bed in its place.
(Image credit: Submitted by Sabrina)
I wanted the studio to feel light and bright but still warm and cozy. I kept the walls white but warmed it up with punches of color with the furniture and accessories. I love the Persian rug that my mom shipped to me from Hawaii - it made the studio feel warm and cozy. My artist friend, Hunter painted the two abstract artwork as housewarming gifts and that added some drama to an otherwise neutral palette. After a long day at work, I love coming home to a tranquil and calm space that feels cozy and welcoming!
Thanks, Sabrina!
• Interested in sharing your home with Apartment Therapy? Contact the editors through our House Tour & House Call Submission Form.