I Tried the "Salt and Ice Trick" to Clean My Coffee-Stained Carafe
We
independently
select these products—if you buy from one of our links, we may earn a commission. All prices were accurate at the time of publishing.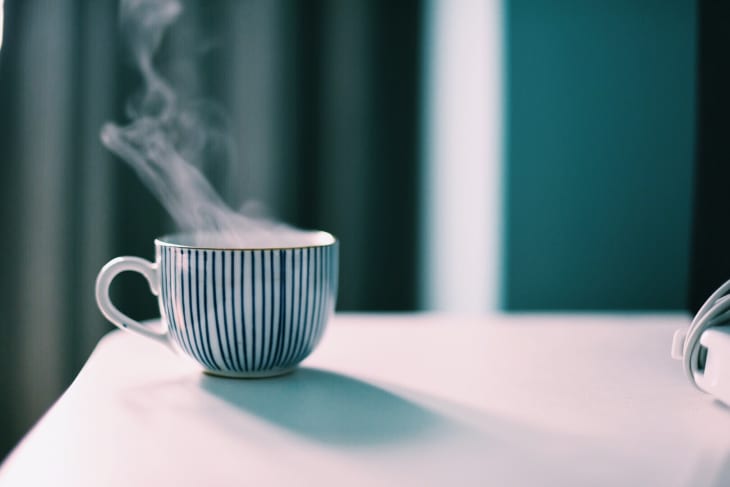 I'm all for old-school coffee cleaning solutions. While there are many great coffee cleaning products out on the market, folks have been drinking coffee for decades, so there are also some DIY home remedies that are just as good — if not better — than modern cleaning products. 
But, as I learned, just because something is tried and true doesn't necessarily mean it's a good method. And I think this might be the case with cleaning coffee stains with salt and ice. 
As a longtime barista, I've heard almost every cleaning hack in the book. I've had people yell at me about vinegar (please don't clean any porous components, including most automatic coffee brewers that have rubber or soft parts, with vinegar).

I've tested citric acid, and I've fallen into rabbit holes looking for the best cleaning brushes that remove tough stains but won't scratch the lining of my coffee carafes. But I'd never heard of cleaning coffee carafes with salt and ice, so I was interested in giving it a whirl.
Morton's has a whole list of cleaning tricks involving salt. In fact, the very first suggestion is using salt to clean coffee pots. Specifically, the company recommends salt, combined with ice and a little bit of water, to clean glass coffee carafes. I imagine they limit their cleaning hack to glass because it's non-porous, so salt won't seep into the surfaces and result in salty tasting coffee. 
I looked around my house, searching for abandoned or forgotten coffee equipment made of glass to try this trick, and eventually I found an old Chemex brewer stuffed in a storage container in my basement. Morton's website recommends using four teaspoons of salt for one scoop of ice and then adding a tablespoon of water so you can swirl it all around.
But I also saw that the grandma-approved technique from Apartment Therapy recommends four tablespoons, so I decided to use the larger amount, figuring that because salt was non-reactive (it's not going to fizz or explode), I wouldn't be doing anything too risky.
I measured the four tablespoons, grabbed two cups of ice and a little container of water to add as needed. (Morton's says to use one cup; Apartment Therapy says "a scoop," so I figured I could base the amount on the size of my carafe). Both techniques say to add salt first, which I did. Then, I added the ice and initially only a tablespoon of water.
Quickly, I found the ice was stuck, so I added more water to loosen everything up. With a total of three tablespoons of water, I could finally swirl the carafe around.
Neither technique gives a time limit, so I targeted two specific stains at the top of the carafe and told myself I would swirl until I saw these stains come off. I mixed the water-salt-ice solution for about five minutes, and guess what? The stains never budged.  
After finally relenting, I was left with another hurdle: how do I quickly remove the ice without having to wait an hour? While other coffee makers might have a lid that's as wide as the carafe itself, the Chemex narrows in the middle. I added a little more water to loosen up the ice and was eventually able to break it all down and pour out the rest. 
My Honest Review of the Salt-Ice Cleaning Trick
Overall, I didn't think the salt did much. Once I was done, there were stubborn stains lingering in the Chemex. The Apartment Therapy piece recommended using vinegar along with salt for particularly tough stains, but I thought that defeated the purpose. 
I also considered that both techniques recommended only using glass vessels. For a brief second, I thought about whipping out one of my ceramic mugs, but I decided that I didn't want to risk it. I like my mugs, and I suspect that the reason you shouldn't use salt on your ceramic is that they might retain salt flavors.