There's a Surprising Story Behind the Song That Plays When Your Samsung Washer is Done with Your Laundry
We
independently
select these products—if you buy from one of our links, we may earn a commission. All prices were accurate at the time of publishing.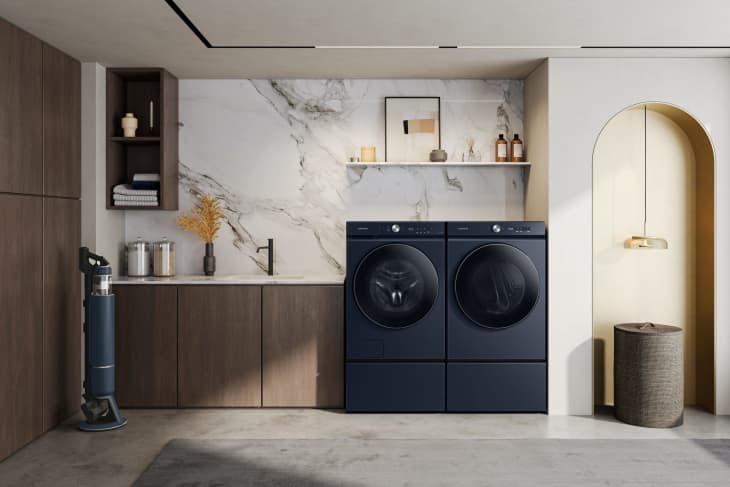 Don't you hate it when you have a tune stuck in your head? There's definitely some scientific explanation as to why people get earworms, whether you enjoy them or not, and some jingles are harder to shake off than most.
One that's been fresh in my mind is the Samsung washing machine melody that plays at the end of a cycle to alert you that your laundry is done. It's a nice and delightful sound, unlike the harsh noise of an industrial washer at a laundromat, which lets out a blaring signal to get your attention. 
I wondered why this ever-so-catchy song was selected as a washing machine sound — and it turns out there's actually a surprising backstory behind it. 
What is the Samsung washing machine end-of-cycle song?
Recently, I discovered this Instagram reel by @renduhofficial that explains the story behind it. In the video, the appliance repair tech says that the jingle comes from a classical piece (Piano Quintet in A Major) written by Franz Schubert, an Austrian composer in the 1700s, that's known as "The Trout" ("Die Forelle" in German). It even has lyrics too, written by a different person, Christian Friedrich Daniel Schubart. (You can listen to it full song here.) The video goes on to explain that the poem tells a story about a trout getting caught by a fisherman, a metaphor to warn young women to stay away from men.
Why did Samsung choose this song?
According to Samsung, the jingle has been a beloved signature sound for over a decade simply because of how comforting it sounds. 
"Samsung decided to use this melody because it was from a familiar, classical piece," says Shane Higby, head of home appliance business for Samsung Electronics America. "The incorporation of this melody comes from Samsung's belief that the home should be a place of comfort, and that home appliances should blend naturally into consumers' lifestyles, whereas the traditional, more industrial-sounding alerts from appliances can be unpleasant and distracting."
Samsung has developed its sound identity to harmonize with the functionality of the appliance, shares Higby, and it's used for all washing machines. 
Can you turn off or change the song on your washing machine?
For those that aren't so in tune with the song that plays when your laundry is done, you're in luck. You can in fact change or turn off the end-of-cycle melody. Samsung has a whole guide on how to disable it on your washing machine.