Here's What It's Like to House Hunt In the (Frustratingly Expensive) Bay Area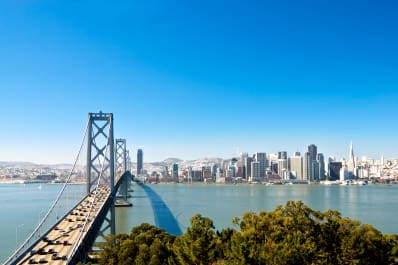 (Image credit: canbalci/Getty Images)
While it might not be as nightmarish as Toronto just yet, the real estate market in and around San Francisco has been getting worse for years. Here's what homes are really selling for:
The backstory: My cousin and her family have lived in Berkeley, Calif., for several years, renting because they couldn't afford to buy there even five years ago. They had a beautiful two-bedroom bungalow at below-market rent, but this summer, their longtime landlord broke the news: She was selling the house, and they needed to find a new home within three months.
In the ensuing panic, they started taking a serious look at homes for sale in their neighborhood, hoping to keep their kids in the same schools. (As a concerned cousin and real estate voyeur, so did I.) But even on good salaries, they soon realized they had little hope of affording anything in the area—much less qualifying for a mortgage given their student loan debt.
They eventually gave up the search and found a suitable apartment to rent—smaller, and far more expensive, but still a place that feels like home at a price they can manage. But I recently looked through the houses I had favorited during their brief house hunt, and my jaw dropped at the final sale prices.
Every single house I had flagged for them in May sold above asking price. And I don't mean by a few grand. I'm talking by hundreds of thousands of dollars.
This cute two-bedroom bungalow was listed for $699,000. It sold for $171,000 more than that:
A similar listing—already out of reach to begin with at $789,000, but still cheap for the area—went for $261,000 above the list price:
An appealing three-bedroom in nearby Albany, listed at $829,000, sold for almost half a million more than its price tag:
Even this extremely modest, 687-square-foot two-bedroom sold for $130,000 over the list price:
In fact, the last time homes in the Bay Area sold at or below their already astronomical listing prices on average was February 2012, according to Redfin data.
Nationally, the median home sold for 98% of its listing price in October — which is pretty high, historically — and about one in five houses sold above list. In Berkeley, meanwhile, four out of five homes sold above asking last month, with the average home selling for 118% of its list price.
That is astounding, and extremely frustrating for Bay Area buyers. Imagine if a sweater had a $100 price tag, but by the time you got to the register it cost $120. It's like someone's moving the finish line on the American dream. I don't know how any first-time buyer, without a home to sell into the frenzy, could possibly compete in that environment.
If you're struggling to buy in another overheated housing market like Seattle, Los Angeles, Boston, New York, or Washington, D.C., take heart: It could be a whole lot worse.