'Schitt's Creek' Fans Can Shop at a Real-Life Rose Apothecary
We independently select these products—if you buy from one of our links, we may earn a commission. All prices were accurate at the time of publishing.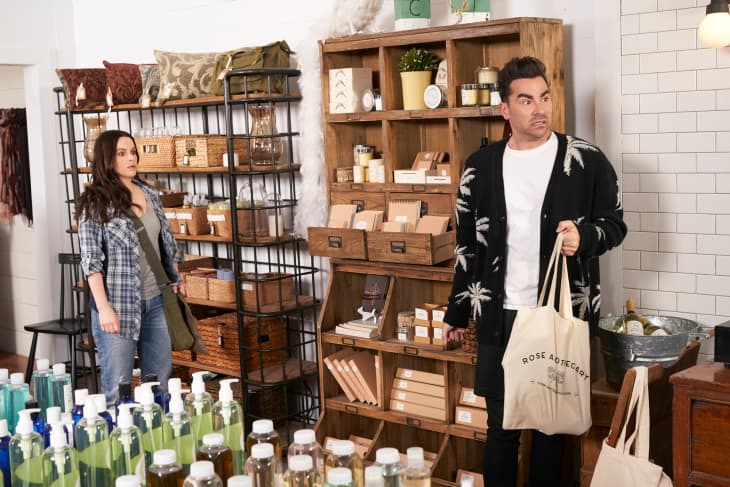 As "Schitt's Creek" fans prepare to say goodbye to the Rose family in the show's final season, there's one really cool way to commemorate the hit series, which saw its fan base grow after premiering on Netflix in 2018. For a limited time, fans can visit a pop-up version of Rose Apothecary, located in a real-life town that has some seriously striking similarities to the fictional Schitt's Creek.
Follow Topics for more like this
Follow for more stories like this
Though the show—and the fictional small town reluctantly owned by the formerly wealthy family—takes place in Canada and is filmed in Ontario, there's an upstate New York town with some wild similarities, from being named after a body of water, to the boutique shop owned by a gay couple, a quirky local cafe owned by a man with prominent eyebrows, and even a mayor that owns a local motel.
It might sound too unbelievable to be true, but Sharon Springs, a small town in Schoharie County, is celebrating its similarities with Schitt's Creek by turning one of its most beloved businesses, the Beekman 1802 Mercantile store, into a temporary Rose Apothecary pop-up which fans can visit. According to USA Today, the shop partnered with the Pop TV/CBC show to create a facade for the outside of the building, rearranging products inside the store (with some Easter eggs for fans to find!) to look like David Rose and his partner Patrick's business, even releasing a Rose Apothecary collection of goodies inspired by the series, including perfumes, lip balms, candles, and more.
Residents Josh Kilmer-Purcell and Brent Ridge founded Beekman 1802 in 2008 after they found themselves without jobs amid the financial crisis and needing to relocate to the country, much like the Rose family, as they told the New York Post.
The pair bought a farmhouse in Sharon Springs and started creating their own goat milk soaps from the farm animals. They then opened the Mercantile store in 2013, selling items that are nearly identical to those sold by Patrick and David in the series.
"We are such big fans of the show and are so thrilled to be a part of it in this special way," Ridge told the NYP. "There are so many parallels between 'Schitt's Creek' and our life and our brand; we truly feel it is the perfect collaboration. We're two gay men who relocated from a busy, metropolitan life to a little town in the middle of nowhere and opened a mercantile. We saw a business opportunity that we really wanted — and needed—to work when we started Beekman 1802, and that's very similar to David as well."
As for how the pop-up came to be, visual merchandising manager Caitlin Scott told USA Today that she reached out to producers of the show last year, and began working on creating the same package design and storefront signage from the fictional Rose Apothecary. "We just went through each part of the store to try and look at those subtle moments that really made sense with our store. We just tried to look at those little details…and just tried to match that."
The pop-up is open through the end of February, and fans have flocked to the charming town in droves—some even dress up in character as Alexis and Moira Rose, the show's mom and daughter (played by Annie Murphy and Catherine O'Hara, respectively). There's even a Johnny Rose lookalike, and you might spot him at the local Black Cat Cafe.
Tony Daou, a resident of Sharon Springs whose bushy brows look remarkably close to those of actor and showrunner Eugene Levy, told USA Today that "the similarities are uncanny" between the New York town and Schitt's Creek, and it certainly seems like he's right. Daou owns the eatery, which is located three doors down from the Beekman 1802 store, and could be considered the real-life version of "Schitt's Creek" hangout the Tropical Cafe.
Daou says he's happy to oblige fans with a selfie and even responds to "Johnny" if patrons see him in the restaurant, which has also seen a huge uptick in visitors thanks to the pop-up. "We had people sitting outside—in January. The 'Schitt's Creek' fans, they're the nicest people."
Scott seemingly agrees, noting that she's seen hundreds of fans every single day stopping by to catch a glimpse of the real Rose Apothecary, trudging through snow just to take pictures. "We've seen people drive down the road and turn around and come back to take a photo of the exterior. Just seeing the reaction of people who really only may have known just the show and not necessarily Beekman—it's great to have them come in here and learn the Beekman story."
For fans who aren't able to make the trip to visit Sharon Springs while the pop-up is still open, fear not: You can snag some Rose family-inspired goodies on Beekman 1802's website. The Rose Apothecary x Beekman 1802 capsule collection makes a perfect gift for the Schitt's fan in your life.