This DIYer Turned a Cat-Shredded Sofa into a Work of Art
We
independently
select these products—if you buy from one of our links, we may earn a commission. All prices were accurate at the time of publishing.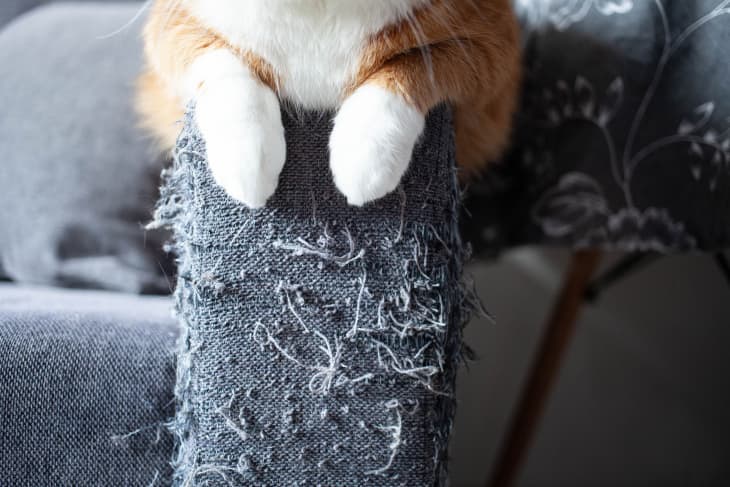 While most will send their broken furniture to the dump, one artist decided to do something else with her shredded sofa: turn it into a masterpiece.
Stephanie Louise, a member of a Facebook group called Tips4Home, recently shared how she restored a gaping tear on the side of her sofa by embroidering it with art. In her before-and-after photos, you can see a hole in the corner, then in the second pic, you see how it's been transformed into a vine with pink and blue flowers. So creative!
According to Louise, she was inspired to do the DIY project after another member from the same Facebook group said that embroidery could be used to fix spots with cat scratches. 
And speaking of felines, if you look closely in both photos, you could see the culprit returning to the scene of the crime. 
The piece is so beautiful that others hope to do the same with their furniture. "I have the same problem with my couch," said a commenter. "And since I don't have the resources to replace the couch, I'm going to try [to] recreate your lovely work!"
Another added: "Looks easy and wonderful. My son's couch has been used as a scratching post by his cat and I look forward to giving this a try!"
The method also had others comparing it to kintsugi, the Japanese art form of repairing a broken dish with gold so it adds beauty. Someone joked: "Definitely more beautiful now for having been a CATastrophe!"
If you're planning to turn your damaged couch into a masterpiece too, Louise has posted a step-by-step guide on her YouTube channel.