There's One Big Problem With That Viral "Self-Cleaning" Toilet Hack from TikTok
We
independently
select these products—if you buy from one of our links, we may earn a commission. All prices were accurate at the time of publishing.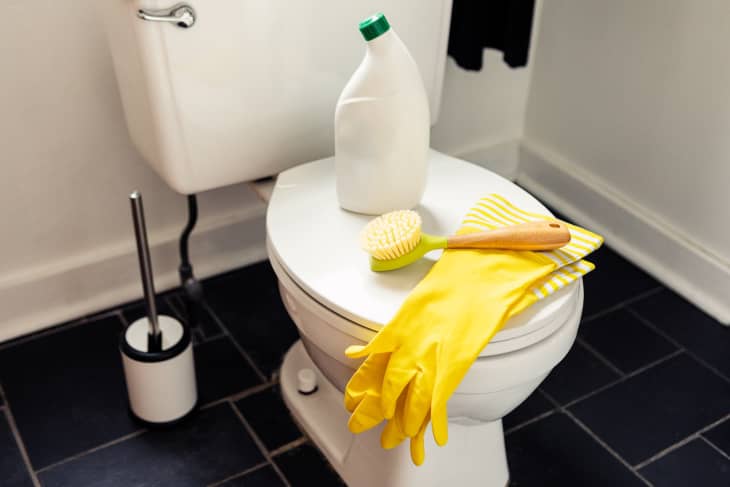 At first, a recently viral TikTok hack looks like a super-smart workaround to cleaning your toilet bowl: Cut a hole in the top of a bottle of all-purpose cleaner, put it in the toilet tank, and end up with a self-cleaning toilet every time you flush. The hack has more than 260,000 likes so far, but after a quick scroll through the comments, you'll realize (thanks to some friendly plumbers) that obstructing your toilet tank with a giant bottle may not be the best idea. 
Plumbing expert Paul Abrams, a representative from Roto-Rooter, agrees that there are better ways to keep your toilet clean — ones that hopefully won't degrade your toilet's function.
Why The Bottle-in-the-Tank Hack Isn't a Good Idea
The first thing to know: Placing a 45-ounce bottle inside your toilet tank will displace the same amount of water that would have normally occupied that space inside the tank.
"The result is that less water will be available to rinse the toilet bowl with each flush hence a less powerful flush," Abrams says. That means, on a standard toilet, the flush water would drop from 1.6 to 1.248 gallons per flush, which, depending on the brand and bottle of your toilet, could be very noticeable or hardly noticeable at all. Abrams says he definitely wouldn't advise anyone to try the hack if they have one of the newer 1.28 gallons-per-flush toilets — it would simply make the toilet's flush too weak to move waste through your drain pipes and sewer. 
The other consideration is how the chemical ingredients in an all-purpose cleaner would affect the plastic and rubber toilet tank parts. In the TikTok, the creator uses Mr. Clean Multi Surface Cleaner, which Abrams says contains chemicals that could damage certain types of plastic and rubber in your toilet tank over time. "It would probably take many months of exposure, possibly more than a year before damage begins affecting toilet performance, but it will likely shorten the life expectancy of some tank parts," he says. 
If you want a somewhat automatic tank-based cleaner, there are better options. Rather than rolling the dice on a cleaner that's not meant for your toilet tank, Abrams suggests choosing a product with chemicals designed to go directly into the tank. Some use natural ingredients while some use ingredients similar to those in Mr. Clean, but in different concentrations. 
In general, plumbers caution against the use of any chemicals inside a toilet tank and suggest instead using bowl-based toilet cleaners. Adding anything but water to a toilet tank could result in potentially costly repairs, Abrams says. The cost of replacing all the toilet tank parts yourself will be about $25 in parts, plus an hour or two of your time. To have a plumber do it will cost a lot more — expect to pay a plumber more than $250 labor, plus parts, according to Abrams.
It's understandable that you'd be excited to try a shortcut, especially one that reduces the amount of time spent cleaning your toilet. "But homeowners should be aware of these tradeoffs so they can decide for themselves whether a reduction in toilet performance and long-term damage to toilet tank parts is worth the convenience of chemical cleaning agents in the tank," Abrams says.