The First Thing You Need to Know About Selling Your Home Without an Agent
We
independently
select these products—if you buy from one of our links, we may earn a commission. All prices were accurate at the time of publishing.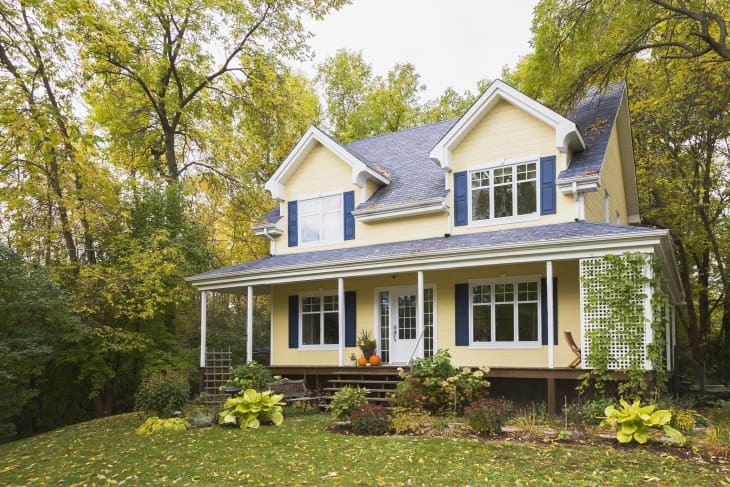 If you watch a steady stream of TV shows that focus on buying and selling homes, you've probably learned a lot about the process. (And hopefully, some of Apartment Therapy's homebuying advice has expanded your knowledge even further.) As a result, you may think you have a solid enough handle on things to forego using a real estate agent when selling your house.
This is understandable, especially when you think about how much you could save on the agent's commission. Plus, if you were captain of the ship, you'd be in charge of every decision during the process. But a few homebuyer education courses can't give you the years of experience real estate agents have. Here's the first thing you need to know before you take the reins and decide to sell your home without a real estate agent.
You may not be saving as much money as you think.
Hiring a real estate agent will typically cost you about six percent of a home's sale price. For a $350,000 home, that's $21,000. It'd be pretty nice to shave that number off your expenses, right?
"The idea of saving thousands of dollars on commission by selling your own home can be tempting, and for a few it may even make sense, but for the vast majority of homeowners the desire to pocket more money by selling their own home will likely cost them," explains Jo Ann Bauer, a Realtor at Coldwell Banker Residential Brokerage in Scottsdale, Arizona.
Maybe you're thinking, "Of course a real estate agent would say that." But there are some numbers to back it up. According to the National Association of Realtors, homes that are for sale by owner, or FSBOs, typically sell for less money than agent-assisted sales. In 2020, homes sold by owners closed at a median of $217,900, while those sold by real estate agents closed for $242,300. That's a $24,400 difference.
The upside of selling your place on your own, per the report, is saving time. FSBO sold more quickly than homes sold by agents in 2020 — 77 percent of FSBO homes sold in less than two weeks. But NAR points out that's because the homes were often sold to someone the seller knew.
Jonathan de Araujo, a broker and partner at the Vantage Point Real Estate Team in Lexington, Massachusetts, says he doesn't believe that selling your home without an agent is a bad idea for all sellers — but it's probably a bad idea for most sellers. There are three reasons why.
First, there's pricing. One of the reasons you may not make as much is related to your potential pricing strategy. How will you determine the right price to sell? "While multiple real estate websites offer quick estimates of your home's value, this is simply an algorithm — not a researched comparison of other similar homes in your neighborhood," Bauer explains. In fact, she says those quickly generated estimates are often exaggerated, which can cause you to upcharge your home. You might already know what happens to overpriced homes: nothing. They languish on the market as buyers select more reasonably priced options. "It's almost worth hiring an agent just to be sure that your home is priced right," Bauer says.
Even if you don't hire an agent, you might need to hire a lawyer to go over all your contracts. This will cost you money, too. Still, this isn't the only reason you might not get as much money as you think. You have to be prepared to put in the work necessary to attract the right buyers. "Just sticking a sign in your front yard will likely not generate the traffic and interest that you hope for," warns Bauer. "The owner is responsible for all the marketing, photos, property descriptions, inquiries, open houses, showings, and vetting the potential buyers."
Then there's the business of appealing to buyers. "Sellers need to understand the pros and cons of their property, and know what will distract buyers and turn them off," says Brett Ringelheim, a real estate agent with Compass in New York.  However, since homeowners tend to gloss over their home's flaws, this can be a challenge. Having an unbiased person to help out can be a plus. "Many times, sellers eventually realize they'd rather just spend four to six percent of the sale price and hire an agent to do all of this for them," Ringelheim says. 
If you're selling to someone you know, marketing and appealing to potential buyers might not be necessary. But you will have to negotiate with the buyer no matter who it is. So Araujo poses an important question: Can you negotiate as well as an agent can on your behalf? "The answer may be yes, but be realistic — not everyone is a born negotiator," he says.