From Good to Great: Tips for Taking Better Photos of Your Home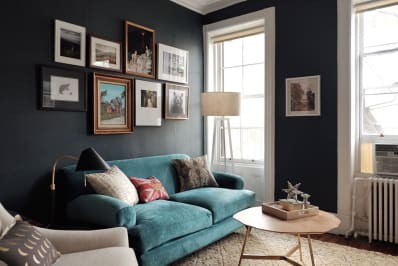 (Image credit: Submitted by Elizabeth)
We're honored when you choose to share your personal space with us (and readers!). You DO NOT have to be a professional photographer to submit your home or project to us. But if you'd like some tips for capturing your home's style in its best light, read on.
Repeat: No photography degree is needed to submit your home or project to Apartment Therapy! All photography levels are welcome. We just want your style to be seen in the best light and want to share some easy photo tips that could help you beautifully capture your beautiful space.
Whether you are using your iPhone or a DSLR camera, please feel free to submit any photos of your home or projects that you'd like to share with Apartment Therapy readers.
---
→ Get the shot
---
(Image credit: Submitted by Phillip)
Make it crisp
We suggest using a tripod to capture straight and crisp shots. You'll have results that aren't blurry in the slightest, and using a tripod will help you line up straight shots when you're capturing the architecture of a room.
(Image credit: Submitted by Ana)
Get a straight shot when you can
Don't have a tripod or are not using a DSLR camera? No problem! Try to keep your smart phone straight up and down (parallel to the walls) when you snag your shots.
Shoot before and after photos from the same angle
If you are submitting a before and after project of a room you've transformed, make sure that some of the beautiful after photos are taken from the same angle as the before photos. This will help readers understand the changes you made more easily.
---
→ Light it right
---
(Image credit: Photos by Joanne Zonderland)
Aim for natural lighting when available
Your shots will look cleaner and your white balance (when the white surfaces in your photo look white and not yellow or blue) will be easier to get right. Shadows won't look funky. If you have the ability to adjust the brightness of your shots before sending, try it. Brighter is usually better for seeing your home's style.
Use one type of lighting per photo
Don't mix different temperature and lighting types in one photo. (I personally prefer table lamps and light fixtures off or dimmed low). You'll find your photos are much more natural looking. If the room just feels too dark without turning lights on and you are using a DSLR camera to capture your space, use your tripod and leave your shutter open longer to get the shot.
---
→ What we're looking for
---
(Image credit: Chrissy Dlug, submitted by Molly Torres )
Wider room shots
Readers don't just want to see close-ups of design details; they want to understand how a room is arranged and how the design looks as a whole. It's fine to include a close-up of a design detail or two in your submissions, but please try to capture your main rooms in their entirety so we can understand your whole space. We also need at least one horizontal room shot to use as your submission lead.
More meaningful vignettes
Supplement whole-room photos with more detailed vignette shots of elements that are worthy of a close-up or have a great story.
---
→ What to hide
---
(Image credit: Submitted by Erin)
Toilets, clutter, and wires, oh my!
You don't have to style these homes like a magazine shoot, but try to avoid highlighting TVs. Stuff wires out of the way if you spot them. Move your laptop and phone chargers. Angle yourself away from mirrors and reflective surfaces. Straighten pillows and picture frames. And put those toilet seats DOWN.
(Image credit: Submitted by Erin )
---
→ Editor's note:
---
Doing these things will help you create great photos of your home. Unfortunately, we can't guarantee your home will be published on Apartment Therapy because we receive many submissions each day. While we appreciate receiving all of them and love looking through them, we unfortunately can't publish every submission to the site.
Comments have been disabled.